Amid widespread and violent protests on Monday night, Baltimore Mayor Stephanie Rawlings-Blake announced that she will implement a citywide curfew, starting at 10 p.m. Tuesday night. It will last until May 4.
Maryland Gov. Larry Hogan has mobilized the National Guard to assist Baltimore police and several other cooperating agencies in enforcing the curfew.
That might sound extreme—martial law some would say—if you didn't consider the fact that there is already a citywide curfew in place for about 21 percent of the city's population. Last year, a law passed that requires all children under 14 years old to be indoors by 9 p.m. on school nights, and requires minors older than 14 to be inside by 10 p.m. on school nights, and 11 p.m. on weekends and during the summer.
That's a curfew every night, all year. The law is already considered one of the strictest curfew laws in the country.
It used to be there were only curfews in the city during the summer months, but then some politicians got to thinking: staying out late might be a sign of other troubles, especially with young boys.
G/O Media may get a commission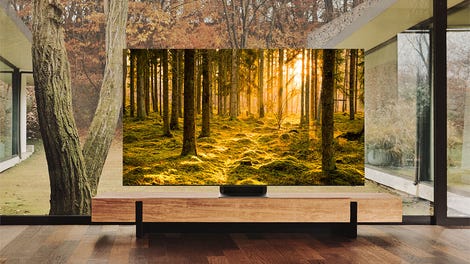 Up to 40% off
Samsung Smart TVs
City councilman Brandon Scott used to run a curfew center in the city. Just after the law passed, he explained to NPR that it was meant to foster interventions where they might be needed.
"I've been there and seen the 4-year-old come in. I've had a little child tell me they got caught on purpose so they can eat," Scott said. "I've seen how young these children are that come into the center that are out unaccompanied, and that is unacceptable."
Others worried that the year-round curfew could be used as an excuse for police to harass older children. "My worry is my 17-year-olds and my 15-year-olds who are on the up-and-up walking home and being harassed or profiled or searched or, 'You don't have an ID so we're going to take you in,' " Ulysses Cofield, the coach at a local community gym, said at the time. "It's gonna be hard."
The first time a minor gets caught breaking curfew, their parents are hit with a $50 citation, according to the city statute. But if it happens again, the parent or guardian can be given a fine of up to $300, or face prison for up to 60 days.
"Detention of minor not an arrest," notes the city code.
Baltimore has long been a troubled city. It consistently ranks near the top of the FBI's most dangerous cities for violent crimes list, and the last year numbers were available for—2013—the city actually saw a 7.3 percent rise in homicides, bucking a national trend. Only three other ranking cities (Newark, Washington, and Indianapolis) matched the spike.
Nearby Washington's spike could almost entirely be attributed to the incident with the shooter in the Navy Yard, who killed 13.
It is partly for that reason, and partly for Baltimore's thriving gang culture (to which a large percentage of those murders are attributed) that the already standing citywide curfew for minors exists.
Speaking on the decision to institute the wider curfew, Mayor Rawlings-Blake tweeted: "This is one of our darkest days. But I am confident that the will of good can overcome the destructive interest of a few."
"Too many people have invested in building up this city to allow thugs to tear it down," she added. "We will do whatever it takes. Despite the evil that we see tonight, this is our home."
10
Daniel Rivero is a producer/reporter for Fusion who focuses on police and justice issues. He also skateboards, does a bunch of arts related things on his off time, and likes Cuban coffee.