If you were under any illusion that the nation's financial institutions would be the first line of resistance against the federal government's nativist turn, a story in the Miami Herald about Bank of America should help rid you of that notion real quick.
The Herald reports that earlier this month, an Iranian man named Saeed Moshfegh, who's studying for a physics PhD at the University of Miami, found his Bank of America account frozen. His local branch told him that the documentation he was providing showing that he was a "student nearing graduation" was wrong. As a result of Bank of America locking him out of his account, the Herald reported, Moshfegh's credit card payments were rejected and he was unable to pay his rent, which was due that week.

The new report comes on the heels of a Kansas City Star report in June that Bank of America had locked a couple from Kansas out of their account after they declined to answer a mailer which asked them for their citizenship status. When they got the bank on the phone, the operator allegedly asked the man for his citizenship status.

In response to the backlash from that story, Bank of America released this statement:
Like all financial institutions, we're required by law to maintain complete and accurate records for all of our customers and may periodically request information as required by law and regulation. This is not unique to Bank of America. This type of outreach is nothing new and the information must be up to date. Therefore we periodically reach out to customers, which is what we did in this case. Over time, we reach out to all customers to verify their information, not only specific customers. If we don't hear from a customer in response to our outreach, as a last resort, we may restrict the account until we can confirm it is in compliance with regulatory requirements."
G/O Media may get a commission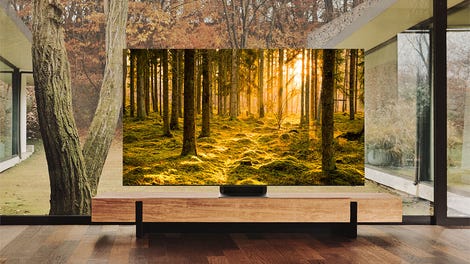 Up to 40% off
Samsung Smart TVs
Bank of America is also using their e-banking system to find out the citizenship status of their customers. When a Splinter staffer logged on to their Bank of America account this afternoon, they were greeted with this message asking about dual citizenship:
Others have reported a similar experience:
Bank of America spokesperson Carla Molina told the Herald that the bank couldn't comment on specific cases, but that Bank of America had been asking about citizenship status for at least a decade. "There's nothing new," Molina said. (We have reached out to Bank of America to ask more questions about this policy, and will update with any response we receive.)
Consumer advocates disagreed. "We work with consumer groups and financial counselors in immigrant communities across [California] and the country," California Reinvestment Coalition executive director Paulina Gonzalez told the Herald. "This is new. We have Bank of America customers who we've spoken to who have never been asked this before last year. If they have this asked of them before they can show us proof."

Regardless, it's clear that Bank of America's snooping made life substantially harder for at least one of its customers. "It's not the business of Bank of America to shut down someone's account," Moshfegh told the Herald. "Immigration officers are different from Bank of America....but they treat me as an alien."

If you're a customer at Bank of America or anywhere else who's been asked about your citizenship status recently, email me at paul.blest@splinternews.com.