While President Donald Trump spent the week fighting a key battle with Arnold Schwarzenegger over The Apprentice's falling ratings, he probably should've been paying more attention to his own.
A new CNN poll found that a staggering 53% of those surveyed disapprove of the way Trump is handling his job as president. According to CNN, that's the highest disapproval rating for a new president since polls began tracking the issue. Trump is also the only president to hold a net-negative rating at this point in his term—just two weeks on.
His approval rating sits at an impressive (impressive in the pejorative sense, that is) 44%, lower than newly elected presidents Reagan, both Bushes, and even Richard Nixon, who had 59% at this point of his first term in 1969. By contrast, former President Barack Obama had a 76% approval rating in February 2009.
As FiveThirtyEight points out, newly elected presidents usually have high approval ratings as they transition into office. And even low numbers can turn around, as they did for Nixon, who reached a high of 68% in January 1973 before that number plummeted to 24% as he was forced to leave office the following year.
But Trump's numbers must have administration officials at least a little bit concerned. (Or maybe not…in response to low approval ratings last month, Trump blamed "fake news" and the "same people who did the phony election polls.")
G/O Media may get a commission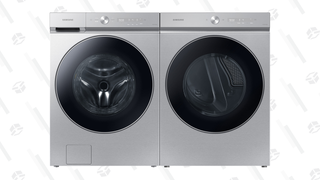 Get $500 back in credit
Last Chance: Samsung Bespoke AI Washer and Dryer Preorder
Asked about Trump's recent executive order temporarily banning refugees and immigrants from seven predominantly Muslim countries, 53% of respondents said they opposed the measure. Forty-six percent said they believe the order makes the country less safe, and 55% said they believe the order is a ban on Muslims, despite Trump's denials.
Opposition to Trump's proposed border wall with Mexico also is gaining. According to CNN, only 38% of those surveyed support the idea, down from 41% last September.
Given the massive nationwide protests over Trump's first two weeks in office, these numbers shouldn't be all that surprising. And in fact, according to the poll, they're not: Some 78% of those polled said Trump has handled the presidency exactly as they expected he would.
The poll was conducted from Jan. 31 to Feb. 2 and has a margin of error of +/- 3%. You can view it here.