Primary voters in 12 states are casting their ballots in today's "Super Tuesday" elections. And, judging by my social media feeds, a lot of those voters are posting photos of their completed ballots to Facebook, Instagram, and other networks, as proof of their democratic participation.
But beware the ballot selfie, voters. Depending on where you live, your state's laws might prohibit taking photos inside the voting booth.
G/O Media may get a commission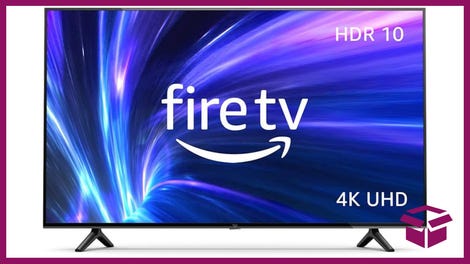 42% Off
Amazon Fire TV 50" 4K Smart TV
In Alabama, for instance—one of the dozen states holding either primary elections or caucuses on Super Tuesday—state law prohibits citizens from taking photos inside a polling place or a voting booth. The same rule applies in Texas, where it's illegal to photograph a polling place from less than 100 feet away.
It's fairly unlikely that state officials would go after the average selfie-taker for snapping a photo of his or her ballot. But if they did, the penalties can be strict. In Vermont, for instance, the law allows a $1,000 fine for a voter who "allows his ballot to be seen by another person." (Theoretically, each person who follows you on Instagram could count as a separate person, and a separate $1,000 fine.) In some states, taking photos of a ballot is a misdemeanor; in other states, like Wisconsin, it's a felony.
The reason for these laws relates to voter fraud, and the need to protect the integrity of the electoral process. The thought is: sharing photos of completed ballots might coerce or influence other voters, or the photos might be used—as they have at least once, in North Carolina—in a criminal voter fraud scheme, to prove that a voter who was bribed to vote a certain way actually did. Laws prohibiting ballot photography have been challenged on First Amendment grounds, but in most states, some forms of ballot photography remain illegal.
The Huffington Post compiled an exhaustive list of state laws relating to ballot photographs in 2014. But here are the laws relating to ballot photography in the 12 Super Tuesday states voting today:

Alabama
Ballot photography is banned in Alabama. Voters are allowed to take their cell phones into the voting booth with them, but not to take photos of the completed ballot. "Each voter has a right to cast a ballot in secrecy and in private," the state's election website reads.

Arkansas
Ballot photography is banned in Arkansas. According to the Digital Media Law Project, the state's election law expressly prohibits "divulg[ing] to any person the results of any votes cast for any candidate or on any issue in the election until after the closing of the polls on the day of the election." So you can post your Instagram ballot photo, but not until the polls close.

Georgia
Ballot photography is banned in Georgia. According to the state's election law, "No elector shall use photographic or other electronic monitoring or recording devices or cellular telephones while such elector is within the enclosed space in a polling place."

Massachusetts
Ballot photography is banned in Massachusetts, but you probably won't get prosecuted for it. Secretary of State William Galvin told WBUR in 2012 that "it's not a serious violation." He added: "We go to great lengths to protect the privacy of voters. However, we have better things to do today than pursue those types of cases."

Minnesota
The Minnesota Secretary of State "strongly discourages voters from using cameras or video recorders in the polling place," according to Gizmodo. But ballot photography may not technically be banned. Instagram at your own risk.

Oklahoma
Ballot photography is banned in Okahoma. The state's election code says, "No person shall, within the election enclosure, disclose to any other person how he voted; nor shall any person expose his ballot to any other person."

Tennessee
Tennessee's laws on ballot photography aren't clear, but they don't seem to expressly prohibit ballot photography. A state bill to ban photographs at polling places was introduced in 2013, but doesn't appear to have been signed into law. Proceed at your own risk.

Texas
Ballot photography is banned in Texas. The state's election code states, "A person may not use a wireless communication device within 100 feet of a voting station," and "A person may not use any mechanical or electronic means of recording images or sound within 100 feet of a voting station."

Vermont
Ballot photography isn't strictly prohibited in Vermont, but officials recommend only posting a photo of your ballot after you've cast it. The state's election director told VPR in 2014 that "there is a little-known statute still on the books that 'provides for punishment of a fine up to $1,000 for a voter that ' . . . allows his ballot to be seen by another person with an apparent intention of letting it be known how he or she is about to vote.'"

Virginia
It doesn't appear that ballot photography is strictly prohibited in Virginia, but the state's administrative code says that "Use of electronic devices may not interfere nor disrupt the voting process, nor attempt to solicit or attempt to influence any person in casting his vote." And there's some evidence that polling places in Virginia have banned photography before.

Alaska (Republican caucus only)
Ballot photography is banned in Alaska. State law says that a "voter may not exhibit the voter's ballot to an election official or any other person so as to enable any person to ascertain how the voter marked the ballot."

Colorado (Democratic caucus only)
Ballot photography is banned in Colorado. According to the Colorado Secretary of State's website, "Colorado law does not permit anyone to show how they voted or to show how others voted. In addition, some county clerks do not permit cameras, cell phones and other electronic devices inside the polling place."

---
Of course, no matter where you're voting, it's wise to heed the advice of election officials. If your polling place is restricting photography or cell phones inside the voting booth, you should probably follow the rules, no matter what your state's laws say.