Naegleria fowleri is one of the scariest things to happen to summer recreation since the mankini.
The microscopic amoeba can be found in warm freshwater bodies: mostly lakes, hot springs and untreated swimming pools.
It is typically harmless to human swimmers, unless contaminated water goes far up a person's nasal cavity, leading the amoeba to slowly make its way into the brain.
In which case, the fatality rate is 95 percent.
There have been only 35 cases of N. fowleri infection in the U.S. from 2005-2014 according to the CDC, so don't get the bubble boy treatment just yet. (The CDC says wearing a nose clip when swimming in a warm lake would be more effective anyway.)
G/O Media may get a commission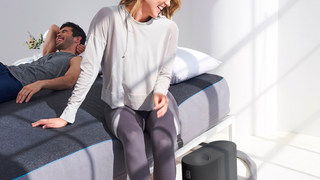 Eight Sleep Pod Cover
But there have been two prominent cases this summer. A 21-year-old California woman died last week from the amoeba, and a Minnesota child in critical condition is believed to be suffering from an infection as well after swimming in Lake Minnewaska.
The California woman was exposed to N. fowleri on private property, but the Minnesota case is concerning because it would be the third such infection in the state since 2010, if confirmed.
The amoeba needs warm water to survive, which is why cases usually come from the southwest. That it's showing up more often this far north can't be a good sign for the climate (or our brains). The CDC has more information on the amoeba, including prevention methods.