Black houses of worship are disproportionately targeted for hate crimes in the United States, according to FBI data obtained by Fusion. A total of 95 anti-black hate crimes at houses of worship were reported to the FBI between 2009 and 2013, compared with 7 such instances of anti-white hate crimes over that same time period. Over that time, Latinos experienced 12 hate crime incidents.
"Black houses [of worship] have been disproportionately targeted for a few reasons," said Vincent Warren, executive director at the Center for Constitutional Rights, a non-profit legal and educational organization. "First, depending on the community, the black church can symbolize a social stability, which the perpetrator seeks to disrupt."
Warren said another reason is more strategic. "Dr. Martin Luther King noted years ago that 11 a.m. on Sunday morning is the most segregated hour in America, because black people go to black churches and white people go to white churches," he said. "There is something to the idea that mass shootings, burnings, and bombings in these settings actually do target just black people, never white people even by accident, because things are so segregated."

Places of worship can include churches, mosques, and synagogues, and others. Fusion found 303 anti-Jewish and 88 anti-Muslim hate crimes in those places during the five-year period.
Seventeen of the reported anti-black hate crimes in houses of worship took place in California, the most of any state, followed by North Carolina, which registered eight anti-black hate crimes at places of worship during the time period Fusion reviewed.
G/O Media may get a commission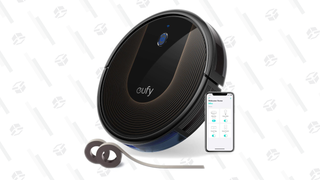 48% Off
Eufy BoostIQ RoboVac
There are about 2.5 million black California residents and about 2.2 million black North Carolina residents, estimates the Census Bureau. According to the FBI's data, that means that if you are black and living in California, you are about twice as likely to be the victim of an anti-black hate crime at your place of worship than the second-worst state, located in the heart of the American South.
California's numbers are startling, but there might be more to why they're so high, says Madihha Ahussain, staff attorney for Muslim Advocates, a group that has tracked U.S. hate crimes for years.
"California might just be doing a better job of reporting [hate crimes to the FBI] than other states," she told Fusion, adding that reporting hate crime data up to the FBI is not required by local law enforcement. "So this trend might really not be a trend, even though the numbers might seem to indicate that."
Hate crime data collected by the FBI is flawed from the outset, she added. A Department of Justice memo circulated in 2013 acknowledged that nearly two-thirds of hate crimes go unreported for a variety of reasons.
"Communities of color and immigrant groups are especially more likely not to report a hate crime, because they might not know or feel like law enforcement would help them with a particular situation," Ahussain said. "Often they're just not inclined to report hate crimes, because that's just not their relationship with law enforcement."
Southern Poverty Law Center (SPLC), a civil rights organization that tracks hate and bigotry in the U.S., offers another potential take. According to the group's "Hate Map," California has the most active hate groups out of any state—most of which are concentrated in the southern part of the state, where the bulk of these hate crimes at places of worship happened.
"Without a doubt, California does a better job of reporting these," said senior fellow at the SPLC, Mark Potok, echoing Ahussain. "It's also the most populous state in the country, that's the other thing," he added.
"Hate crime statistics vastly underestimate the real level of hate crimes," said Potok. "The real number of hate crimes is probably 25-40x higher than what FBI statistics show."
Other groups were subjected to ethnically-biased hate crimes at their places of worship. Between 2009-2013, there were ten instances of anti-Asian hate crimes across the country, with two happening in California and two in Maryland.
During that time there were also two reports of anti-Native American hate crimes, both of which happened in California.
Anti-Arab hate crimes were not tracked by the FBI during the time period Fusion reviewed, though it began tracking them at the beginning of this year.
Fusion Investigative's Alice Brennan contributed to this story
Daniel Rivero is a producer/reporter for Fusion who focuses on police and justice issues. He also skateboards, does a bunch of arts related things on his off time, and likes Cuban coffee.
Collier Meyerson is a reporter at Fusion with a focus on race and politics. She lives in Brooklyn.