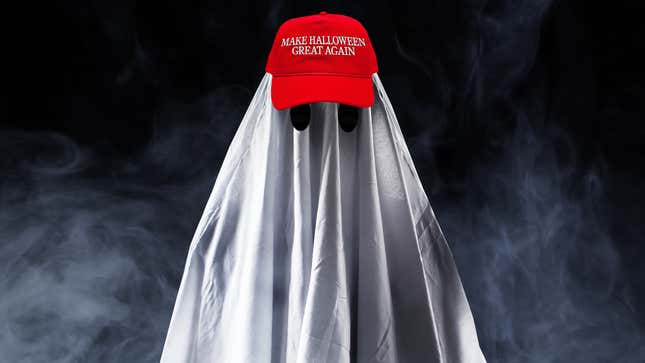 Here's a fright to haunt you in the night: The midterm elections are almost here!! It's not all bad, though. While you're bracing for the very real horrors of the world to devour any hope you have left inside, Halloween is here to distract you with some fantastical terrors, silly get-ups, cobwebs, dry ice, and probably a lot of alcohol.

That's what Halloween should be, anyway. Whether or not you endorse adults dressing up in costumes (the Splinter staff is divided), I think we can all agree that it's nice to get caught up—even momentarily—in some seasonal diversions. Which is why it's especially heinous when people bring the fucking news into Halloween. Every year, normies and celebs alike can be counted on to don "relevant" but completely offensive costumes to bars, parties, and (worst of all) work. The year of our lord 2018 is no exception.
We won't be able to forecast every single terrible costume, but here's a list to prepare you for some of the haunting sights to come. Halloween is here, baby, and it's scary as hell! Because this year, we're in actual hell.
Melania
In 2018, the "Sexy Melania" costume is tired. This year will be all about riffing on the First Lady's questionable fashion choices. Her "I Don't Really Care, Do U?" jacket was originally from Zara, and naturally, people are now reselling it, along with knock-offs for the holiday season. Don't do this. (And don't do the #Resistance version of "I Really Do Care" either, sorry.) Also don't do Melania in her colonial garb from her recent trip to Africa. And don't dress up as Fake Melania. Don't do any of it.
Trump/Sexy Trump
I'm not explaining why you shouldn't do this!!! Looking at this makes me want to puke!!!
MAGA Kanye

Shockingly, there aren't any versions of this costume for sale, but we all know it's coming. And it goes without saying, but, don't listen to Megyn Kelly: Blackface is extremely bad and extremely racist and we should all know this by now.
Meghan Markle
See above!!! This costume isn't inherently problematic, but....think this one through before your Halloween costume becomes a royal nightmare :)
Brett Kavanaugh
I don't care if it's a full costume or just a stupid t-shirt, do not go anywhere near this nightmare story during Halloween.
Anything #MeToo related
No puns, no Weinstein get-ups, no nothing. It's not gonna be good and everyone will hate you.
Stormy Daniels
This is already a bad and problematic costume, but if you bring Toad into it, I swear to god...
"SEXY OP-ED ANONYMOUS COSTUME"
First of all, no one remembers this story. Second of all, no.

"Womens Ghosted Costume"
OK admittedly, this one is just dumb—on a few levels though! Dumb idea and dumb execution! Is she...a ghost? Is she a ghost that's wearing her own texts (they're blue and right-side aligned!!)? Or did she do the ghosting? If she did the ghosting why does she have that look on her face? Dumb. Dumb costume.

Slender Man
I know the Slender Man movie just came out, but let's not forget that a near-fatal stabbing and other violent incidents involving children accompanied this ~spooky~ internet character. Avoid!
"Illegal Alien"
Honestly, we should just nuke the planet.
This "Adult Tequila Bandito Costume"...
...and anything else that involves pretending to be another race or nationality, especially if you're planning on doing it in a disgustingly stereotypical way!!

Speaking of which….
Native Americans
HOW IS THIS STILL A THING HOLY SHIT. See also: "Eskimo Hottie."
Barakula
To be honest, I'm not sure I even understand what the particular own here is supposed to be, but my gut says, don't find out and don't wear to your coworker's party!!
"Teen Rapper Costume"
The sagging/baggy pants issue is fraught as hell and aside from that, here is a blanket PSA: don't dress up as a "rapper"!
These deranged "carry me" costumes
I don't know what the hell this is or why it is, but it's bad. Also a good reminder to avoid anything Russia or North Korea related.
A liberal
This might be the scariest costume of all, second only to a shirt that says "I'm a centrist."
---
There's a slew of other costumes we've covered before (and also ones we haven't) that you still shouldn't do: anything related to Fake News, "terrorists," cops/prisoners/FBI agents/Border Patrol, The Wall, Nazis (new or old!), anything transphobic, and sexy nuns/priests! Subvert something else why don't you! Sexy Handmaid? I mean, not my favorite honestly, but sure, fine, whatever! Sexy Gritty? PLEASE. We are not opposed to sex. We're just opposed to stupidity.