Vermont Sen. Bernie Sanders, an independent who will announce his campaign for the presidency on Thursday, is not exactly a serious candidate — yet.
He's the first official candidate, however, to be officially willing to take on the gargantuan task of challenging former Secretary of State Hillary Clinton for the 2016 Democratic presidential nomination. And he's in about the worst position possible.
According to Public Policy Polling, Clinton currently gets 54 percent of Democratic support nationally, compared with just 6 percent for Sanders. Among young people — a key segment whose support helped allow President Barack Obama to defeat Clinton in 2008 — he grabs only 1 percent of the vote to Clinton's 47 percent, according to a survey from Harvard's Institute of Politics.
But Sanders will still have an important role to play in the 2016 Democratic primary, and he could end up making life difficult for the party's presumptive nominee. Sanders, a self-described Democratic socialist, will serve as the unofficial but unabashedly liberal spokesman of the party.
Many progressive groups are hailing his decision to run.
"Senator Sanders has been a vibrant progressive voice for years," said Adam Green, the co-founder of the Progressive Change Campaign Committee.
G/O Media may get a commission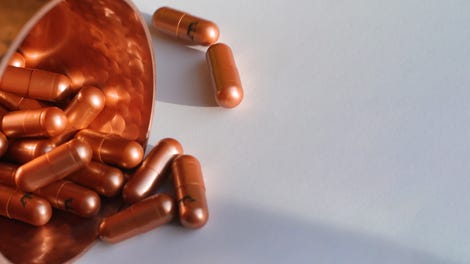 health
The Lyma Supplement
"The goal of many progressives in 2016 is to ensure that the election is fought over big, bold, economic populist ideas like expanding Social Security benefits, a national goal of debt-free college, Wall Street reform, public financing of campaigns, and creating millions of clean-energy jobs. Bernie Sanders will certainly help pull the debate in that direction, and he's a positive addition to the race."
Here are a few issues where Sanders could provide a real challenge to Clinton from the left — if only to further push her in that direction.
Income inequality and Wall Street
This is the issue that Sanders stresses will be the focus of his campaign. It's the issue that he says encompasses all of the issues that voters care about when they make a decision at the ballot box.
Unemployment. The minimum wage. Pay equity. Climate change. You name it, and it fits under the income-inequality umbrella.
"At the end of the day, all of the major issues are subsumed by the issue of income and wealth inequality and the Supreme Court's decision in Citizens United," Sanders said during an interview with Fusion earlier this month in New York.
"And unless we address those issues, I don't think we're going to address any of the significant issues facing this country."
Clinton has already begun to tilt left on the issue of income inequality during her fledgling campaign. On Wednesday, for example, she delivered a major speech calling for the end of mass incarceration and criminal-justice reform, which she framed as an issue of inequality.
But Clinton's opponents have not been shy to criticize her ties to Wall Street. And while she has stressed a need to get "unaccountable money" out of politics, big Democratic-aligned outside groups known as super PACs are gearing up to support her run for president.
In his interview with Fusion, Sanders hinted he would play up his underdog role from a money standpoint.
"The problem is not in presenting a compelling progressive alternative," Sanders said. "The problem in the country now where running for president may cost more than a billion dollars is how do you get that message out? And it may in fact be too late. It may be that the billionaire class is so powerful in their control over the economy, in their control over the political country, in their control over the media and what gets focused on—it's possible that they can't be beaten."
Trade
A rising hot-button issue in the Democratic Party, trade could dominate the conversation for weeks or months at a time as the Obama administration seeks to negotiate a free-trade deal with 11 other Asian-Pacific countries known as the Trans-Pacific Partnership (TPP).
Sanders has already come out in full force against the agreement, as well as giving Obama so-called "fast track" authority to more smoothly negotiate the agreement with less congressional involvement. On Sanders's side is Sen. Elizabeth Warren (D-Massachusetts), the progressive darling.
Clinton has been put in something of an awkward position — as she helped negotiate the emerging deal as secretary of state. But she has pulled back her enthusiasm for the deal as of late, taking a wait-and-see approach and saying the deal will have to pass a number of tests before it can earn her support.
"Any trade deal has to produce jobs and raise wages and increase prosperity and protect our security," Clinton said of the negotiations during a campaign stop last week.
Climate change
Sanders is on one obvious end of the spectrum on climate change — the left one. He supports a carbon tax, which goes far beyond even the Obama administration's short-lived cap-and-trade proposal (which seems politically crazy right now). Earlier this year, he also sponsored an amendment to force members of the Senate to vote on whether they believe climate change is "real and is not a hoax."
Clinton, meanwhile, has avoided taking a firm position on the most basic of liberal environmental priorities: The construction of the Keystone XL pipeline. In December, for example, she did an awkward dance in New York in which she fundraised for a staunch Keystone supporter and delivered the keynote speech at an anti-Keystone group's event later that night.
"I don't think she'll speak out about it until the president makes a decision," Gene Karpinski, the president of the League of Conservation Voters, said then. "I really don't. I think she's already said she wants to see the process unfold, and I don't think she wants to interfere with that."
But when asked if she should express her position on the issue after a final decision, Karpinski nodded his head and said, "Well, yeah, and let's see what the president does."
Sanders has already challenged Clinton to address where she stands on that issue. Expect Keystone and other environmental priorities to come up often.
Brett LoGiurato is the senior national political correspondent at Fusion, where he covers all things 2016. He'll give you everything you need to know about politics, with a healthy side of puns.