In a letter obtained by Politico, more than two dozen former Bernie Sanders presidential campaign staff asked for a meeting with campaign leadership to discuss incidents of sexual violence and harassment during the 2016 Democratic primary race and to develop protocol in order to avoid the problem in 2020. The letter was confirmed as authentic by the staffers, who said it wasn't intended to be made public. The letter did not contain references to specific incidents of harassment or allegations against individuals.

"[Much] of the success of our campaign was due to the intense commitment, passion and sacrifice of women, people of color and LGBT staffers," the letter reads. "In recent weeks there has been an ongoing conversation on social media, in texts, and in person about the untenable and dangerous dynamic that evolved during our campaign."
The letter requests an in-person meeting, including a conference call for those who can't make it, with Jeff Weaver, Sanders' 2016 campaign manager, Caryn Compton, Sanders' legislative director, and others.
The letter continues:
The undersigned will set the agenda for the meeting with goals to achieve a productive statement on harassment in the campaign environment from Bernie Sanders and Jeff Weaver; a follow-up plan for implementing concrete sexual harassment policies and procedures; and a commitment to hiring diverse leadership to pre-empt the possibility of replicating the predatory culture from the first presidential campaign.
G/O Media may get a commission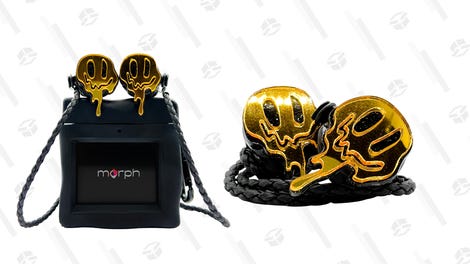 morph audio
Morph Earphones
Friends of Bernie Sanders, the campaign's PAC, released a statement to Politico.
"We thank the signers of the letter for their willingness to engage in this incredibly important discussion," it reads. "We always welcome hearing the experiences and views of our former staff. We also value their right to come to us in a private way so their confidences and privacy are respected. And we will honor this principle with respect to this private letter."
The PAC points out that during Sanders' 2018 Senate reelection campaign, they established a toll-free harassment hotline run by an outside organization, and mandated training for all volunteers and staff.
From Politico:
Several people who signed the letter said that their effort is not just about Sanders' 2016 or 2020 presidential campaigns, but rather about what they called a pervasive culture of toxic masculinity in the campaign world. They stressed that they hoped their letter would not be reduced to reinforcing the "Bernie Bro" caricature, but rather would be one part of a larger reckoning among people running campaigns.
The problem of sexual harassment on the campaign trail also affected Sanders' 2016 opponent, Hillary Clinton. Burns Strider, Clinton's "faith advisor" on her 2008 campaign, was accused of groping female co-worker and sending her inappropriate messages. Clinton did not fire Strider when the incident was brought to her attention, but docked his pay and sent him to counseling.
Sanders' former staff said that they wanted to bring up the need for action on sexual harassment and violence in the campaign environment before his official campaign announcement, in hopes that it would impact the hiring process.
"This letter is just a start," one signee told Politico. "We are addressing what happened on the Bernie campaign but as people that work in this space we see that all campaigns are extremely dangerous to women and marginalized people and we are attempting to fix that."