The Bernie Sanders presidential campaign has hired a woman who is undocumented and intimately familiar with how U.S. immigration laws can separate families to assist with outreach to Latinos, a hugely important demographic in the 2016 election.
A spokesperson for Sanders confirmed to Fusion on Saturday that Erika Andiola is joining the campaign as a "Latino Outreach Strategist for the Southwestern Region." She starts Monday.
"We are excited to have Erika Andiola on the team," Arturo Carmona, the Latino outreach director for the Sanders campaign, said.
BuzzFeed's Adrian Carrasquillo was the first to report the Sanders campaign had hired Andiola, quoting three unnamed sources close to the campaign.
Andiola made national headlines in 2013 after she uploaded a video to YouTube following a raid on her home where immigration officials detained her mother and brother.
"This is so real. This is not just happening to me, this is happening to families everywhere," Andiola said in the video. She launched a campaign to save her mother and brother and ultimately pressured Immigration and Customs Enforcement (ICE) to allow them to stay in the country.
G/O Media may get a commission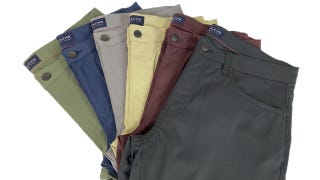 JACHS NY Fall Stretch Tech Pants
"Erika's personal story as a Mexican undocumented woman with an undocumented family and a long history of advocacy for Latinos speaks directly to the campaign's commitment to fight for immigrants, Latinos and working class Americans in every community across the country," Carmona told Fusion in a statement.
Andiola co-founded the immigrants rights group Dream Action Coalition. In 2013 she also served as a congressional staffer for Arizona Congresswoman Kyrsten Sinema.
Andiola started organizing for immigrant rights in 2008 after voters in Arizona passed a law that banned undocumented students from receiving in-state tuition. She told NBC News that shortly after she lost her scholarship her mother's workplace was raided by Maricopa County Sheriff Joe Arpaio. Her uncle was also taken in a separate raid.
Andiola now joins a handful of other prominent immigrants activists working at the Sanders campaign. The campaign hired César Vargas, 31, an undocumented immigrant from Mexico who challenged the state of New York to allow him to become the state's first undocumented lawyer.
Carmona himself is also a son of immigrants who was hired by the campaign earlier this month.
Sanders is not alone in increasing his outreach to immigrants. The Hillary Clinton campaign has also hired prominent immigration activists, naming Lorella Praeli as Latino outreach director.
Sanders was the most popular candidate among a group of a dozen young registered Democrats hosted by Fusion earlier this month after the Democratic debate this month. The panel named immigration as a top issue.