Bernie Sanders' problem with black voters just got real.
The Vermont senator, who's killing it with white liberals, has never polled well with African American voters in the greater United States. And now the first vote returns suggest the problem could be worse than his campaign initially feared.
Early vote tallies from Saturday's Democratic primary in South Carolina show that Sanders got thrashed by Hillary Clinton among African American voters. And unfortunately for Bernie, black voters represented 61% of the Democratic electorate in the Palmetto State.
Saturday was ugly for team Bernie. Early ABC exit polls show that Clinton won a mic-dropping 86% of the African American vote in South Carolina, crushing Sanders and even outperforming Obama's results in 2008.
Hillary rose to the occasion. In her South Carolina victory speech, Clinton seemed to emulate Obama's tone and tenor in a fiery discourse that blasted "systemic racism" and called on voters nationwide to join her in imagining a future that invests in "communities of color."
"Instead of building walls, we need to be tearing down barriers," Clinton said, in a speech that both alluded to Donald Trump's divisiveness and included shout outs to Rosa Parks, John Lewis, Trayvon Martin, Sandra Bland, Dontre Hamilton, and Eric Garner, among African American icons.
G/O Media may get a commission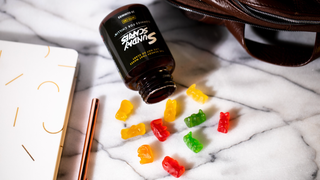 10mg CBD Gummies (22-Count)
Clinton has always polled well among African American voters in South Carolina, but she really ran up the score in Saturday's romp over Sanders. In many ways, black support for Clinton was a vote for continuity of the Obama Administration; nearly 90% of black voters in South Carolina's primary said they support Obama's policies, according to ABC News exit polls.
That means the "Obama effect" was in full force in South Carolina, unlike Iowa, New Hampshire or Nevada, where entrance and exit polling showed the mostly white electorate was rather evenly divided on the president's policies.
The results weren't pretty for Sanders, who only did well among the minority blocs of young white, and white male voters. The Vermont senator seemed to be gaining some anecdotal support among young, college-educated African American voters, but in the end it was only anecdotal. Some 62% of African American Democrats under the age of 30 voted for Clinton in South Carolina, according to ABC exit polls.
Overall, fewer millennials voted in South Carolina than in previous primary contests, where young voters played a big factor in Sanders' strong performance, according to exit polls.
Older black voters did, however, perform their civic duty. And they did so by voting for Clinton, who won a monstrous 96% of African American voters over 65.
While South Carolina's returns are by no means a deathblow to the Sanders campaign, it does raise serious questions about Sanders' viability with black voters nationwide, and could prove to be a game-changer heading into Super Tuesday.