Presidential candidate Bernie Sanders said today he would not deport undocumented immigrants who have lived in the United States at least five years.
"We have 11 million people today who are living in fear," he said in a speech to a conference of immigration activists in Las Vegas. "We need to fight as hard as we can to end that fear."
Sanders said he wanted to pass the "strongest comprehensive immigration reform possible" in the first 100 days of his administration. But if Congress doesn't act, he said he would expand President Barack Obama's executive actions to defer deportations.
Essentially, Sanders wants to redo the failed 2013 Senate immigration reform bill, which was not voted on by the House of Representatives, as an executive action. He said he would use executive action to "provide broad administrative relief to the parents of citizens, the parents of legal permanent residents, the parents of DREAMers, other family members and the rest of the immigrant population that would have been legalized if the House of Representatives did their job."
A campaign statement added that he would "allow all undocumented people who have been in the United States for at least five years to stay here without fear of being deported," through executive actions and prosecutorial discretion. That echoes a similar proposal by his presidential rival Martin O'Malley.
G/O Media may get a commission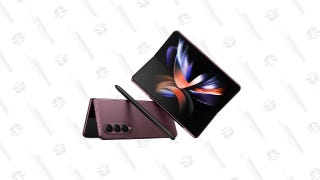 Save Up to $300
Galaxy Z Fold4
President Obama's executive action expanding deportation relief is currently held up in the courts.
Sanders also continued his calls to close private immigrant detention centers, calling for an end to the "immigrant detention-deportation machine and the expansion of border militarization."
He invoked his own immigrant family history—his father came from Poland—during his speech.
"America has always been a nation for the oppressed," he said. "When we talk about the immigrant experience, I know a little bit about that."
The progressive immigration policies that Sanders is pushing are an attempt by the candidate to better appeal to Latino voters. He held a rally on a soccer field in a Las Vegas Latino neighborhood last night, backed by a full mariachi band. But the 3,400-strong audience, the Guardian reported, was mostly white.
Casey Tolan is a National News Reporter for Fusion based in New York City.