Days after racist robocalls targeting gubernatorial candidate Andrew Gillum reached Florida voters, another attack on a candidate is spreading misinformation. In Texas, where the race between Senator Ted Cruz and challenger Beto O'Rourke remains close, O'Rourke's supporters reported receiving suspicious text messages that appeared to be from his campaign, according to the American-Statesman.

"Hi, it's Patsy here w/ Beto for Texas. Our records indicate that you're a supporter," the message read. "We are in search of volunteers to help transport undocumented immigrants to polling booths so that they will be able [sic] vote. Would you be able to support this grassroots effort?"
Social media users noticed the messages and blamed Cruz and Republicans, though there's no evidence of who sent the messages.
"It was sent by an impostor," O'Rourke spokesman Chris Evans told the Statesman. "But we're continuing to look into what happened."
G/O Media may get a commission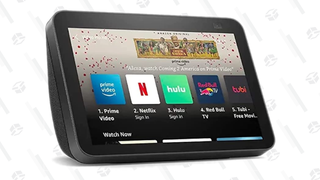 The campaign later texted supporters to say an "imposter" sent the messages.
"An imposter signed up to be a volunteer on our texting team and texted you today with a message that was not approved by the campaign," they wrote. "We're very sorry about this and have taken the necessary steps to make sure that they do not continue sending text messages with our campaign."

There's no evidence that voter fraud is common, or that the few who do vote illegally are undocumented immigrants, but it's a favorite talking point among anti-immigration Republicans. From President Trump's claims after his election that "millions" of fraudulent votes were cast to elected Republicans' penchant for pushing voter ID laws, the specter of undocumented immigrants voting looms large on the right. Just last week, Trump's voter fraud task force subpoenaed 44 North Carolina counties for a huge amount of voter information.
The latest polls from Texas show O'Rourke within only a few points of Cruz, numbers that seem to have unsettled the Cruz camp. Yesterday, Cruz's campaign put out a campaign ad featuring a heavily edited video to make it appear that O'Rourke said he was "grateful" for Americans burning flags. So far, these efforts don't seem to have concerned O'Rourke's supporters. Those who talked to the Statesman, at least, easily saw through the fake text.
"I thought it was hilarious," Houston resident Frank Freeman, an O'Rourke supporter who received the text, told the paper. "It's pretty transparent."
"That is obviously a fake," Vach Snyder, a resident of Abilene, TX said he thought when he got the message. "It's just an outrageous and terrible thing to do, because it's trying to fool people."