Check out a full slideshow of photos from the concert here.
It's only been a year since Jay Z and Beyonce were the hottest tickets in town. Jay Z toured not long ago for his latest and 12th album, "Magna Carta Holy Grail," while Beyonce completed nearly a year-long run of her somewhat controversially named—at least in feminist circles—Mrs. Carter World Tour. But if there is such a thing as Carter family fatigue—on either the performers' or fans' ends- there were no traces of it Wednesday night, when the duo launched their new On the Run tour at Miami's Sun Life Stadium.
Musically speaking Jay and Bey made for a natural pairing as they shared the stage often throughout the performance. The synergy between their respective works flowed so seamlessly, in fact, that a less integrated production would have been far less successful. Opener "'03 Bonnie and Clyde" further established the collaborative theme with its Tupac-sampled lyrics, "me and my girlfriend."
But it was important to note what Beyonce sings in her gritty feminist proclamation "Flawless," which she performed early last night among much bigger hits like "Crazy in Love" and "Tom Ford":
"Don't think I'm just his little wife… Don't get it twisted, get it twisted, this is my sh*t. Bow down b*tches."
The song's placement near the beginning set a tone, demonstrating Beyonce's determination to send a clear message. If that wasn't clear enough, one might just look at the visual effects that accompanied the song's sample of the TED talk by woman's rights activist Chimamanda Ngozi Adichie.
Each word of Adichie's sampled speech flashed in huge, all-white caps in stark contrast to the giant black backdrop: "We teach girls to shrink themselves to make themselves smaller. We say to girls, you can have ambition, but not too much. You should aim to be successful, but not too successful. Otherwise you will threaten the man…."
G/O Media may get a commission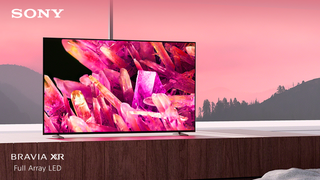 $400 off
Sony 55 Inch 4K Ultra HD TV X90K Series
The memo couldn't have been less unambiguous. The world has a problem with women, especially powerful ones like Beyonce. And she's here to change that, one tour date at a time.
Considering all the ink that's been spilled arguing about Beyonce's ostensible feminism or lack thereof, the pop performer, unlike many of her peers (hell, women in general), owned it. Throughout the show her feminism presented not only as a fuzzy, feel-good concept about girl power, but as a word that defines her in its most political form. Wardrobe choices like a fabulous long-sleeved, box-pattern-cum-leopard leotard doesn't diminish that at all.
(Fusion's Alicia Menendez recently spoke with activist Janet Mock, a noted Bey fan, about just this issue—check out the video here.)
Furthermore, her particular brand of feminism, which seems to place some value on power alongside monetary and artistic success, isn't, say, less pure. There are a gazillion branches on the feminist tree of ideas. Debating Beyonce's position as ally is a dubious position at best and one steeped in elitism and prejudice at worst.
And "Flawless" was just one song that expressed all of this. "Pretty Hurts," "If I Were a Boy," and "Drunk in Love" were all part of an empowering set list that articulated strong feminist points of view. The sex-positive "Drunk in Love" in particular highlighted Beyonce—who was at that point in the show donning a black lace number—as a woman with a sexual appetite, ravenous even, boasting "we be all night" about her sex life with Jay Z.
As she sat on a chair, belting out the lyrics, her confidence and ownership of that part of herself was palpable. It's also almost as if Beyonce was checking off Adichie's speech point by point. ("We teach girls that they cannot be sexual beings in the way that boys are," goes one excerpt.) "Drunk in Love" as a song and as a number performed live epitomizes confident sensuality and sexuality. Check.
Throughout the night, the show's theme evolved from "me and my girlfriend" to Carter family bliss. The show closed with "Young Forever" and "Halo" amid a dark arena twinkling with cell phones. The screen flashed adorable home movies of the Carters with daughter Blue Ivy. The couple embraced in what seemed like an organic and blissful we're-the-luckiest-two-people-alive moment (even if it's organic and blissful every show).
But don't get it twisted. What seems to have contributed more than anything to her enviable you-can-have-it-all life is her fierce independence and ambition, qualities embodied in her songs, grueling tour performances, and work ethic. All of those were on display last night. The queen of pop doesn't have to depend on anyone else. She has her own throne.
@fusion