We still don't know how Freddie Gray sustained a fatal spinal-cord injury while in police custody on April 12, but we can try to make sense of the resulting protests in the 25-year-old Baltimore man's hometown, the largest of which took place on Saturday and resulted in at least 34 arrests.
The media, the police department, city officials, and protesters have all put forward conflicting accounts of yesterday's events, with many news outlets heavily relying on terms like "violence" and "chaos" in their next-day reporting. (Anyone else having flashbacks to that black people "looting"/white people "finding food" narrative dichotomy post-Katrina?) To combat those potentially inaccurate media narratives, I've waded through social media to assemble a more cohesive, more inclusive timeline of the day.
Saturday, 2 p.m.
The Baltimore Police Department issues its first traffic warning in relation to protesters.
By 2:30 p.m., protesters have assembled near the Gilmor Homes housing project where 25-year-old Freddie Gray was arrested on April 12. Legal observers from the ACLU are present.
G/O Media may get a commission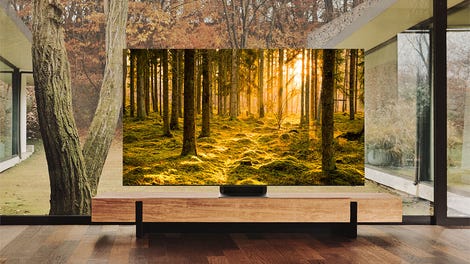 Up to 40% off
Samsung Smart TVs
Protesters also stand outside the BPD Western District Building about 5-10 minutes walking distance from Gilmor Homes, chanting "911 is a joke." Baltimore County Police are present.
Saturday, 3 p.m.
Protesters have begun marching along Pennsylvania Ave, Martin Luther King, Jr. Blvd, and Baltimore St, chanting "All night, all day/ We will march for Freddie Gray."
Saturday, 4 p.m.
Protesters arrive at Camden Yards, where a police barricade has been set up blocking entrance to Oriole Park. The first group of protesters end up at City Hall, where officers are observed carrying riot gear.
Saturday, 5 p.m.
The second group of protesters join the first group at City Hall, where an estimated 4,000 demonstrators and a visible police presence have assembled.
The New York Times reports that Black Lawyers for Justice founder and president Malik Shabazz demands an end to the "cover-up" surrounding Gray's death. State troopers are present.
The BPD announces that protesters have left City Hall.
Saturday, 6 p.m.
According to one of the protesters, though, the group had split into three subgroups: one to shut down City Hall, one to shut down Camden Yards, and one to shut down the waterfront.
The Times reports that a group of "as many as 100" went "on a rampage" outside the Camden Yards.
The BPD tweet that "some" of the protesters have begun throwing objects at police. Police car windows are smashed. Several roads have been shut down.
Saturday, 7 p.m.
Police officers begin advancing on protesters.
The BPD announce that they've isolated "out of town" protesters causing "disturbances."
Saturday, 8 p.m.
One of the night's 34 confirmed arrests is made. Officers are observed on horseback.
Saturday, 9 p.m.
An estimated 300 police officers in riot gear advance from multiple directions on protesters in the streets following a standoff, rhythmically beating their nightsticks against their shields.
12 confirmed arrests have been made.
Attendees at Saturday night's Orioles game have been asked to remain inside Camden Yards due to "an ongoing public safety issue."
Elsewhere, Mayor Stephanie Rawlings-Blake holds a news conference with Pastor Jamal Bryant and Gray's twin sister, Fredicka Gray. Fredricka urges the city to remain peaceful, saying: "Freddie would not want violence. Violence does not get justice."
Saturday, 10 p.m.
Multiple storefronts have been smashed.
Protestors have dispersed from the Camden Yards area, and police begin to leave. Orioles game attendees are permitted to leave the stadium.
There is another standoff between protesters and police around N Gilmor St and Riggs Ave, not far from the Gilmor Homes housing project. Protesters chant, "Hands up! Don't shoot!"
Saturday, 11 p.m.
A police helicopter orders protesters to disperse.
Witnesses report two more arrests. Police reportedly end standoff.
Sunday, 12 a.m.
The PBD tweets that there are "a few individuals causing disturbances in west Baltimore" and that the department will continue "deploying resources to keep the community safe."
Sunday, after 1 a.m.
A witness alleges that at least one police officer used mace on those present.
Video footage showing police officers beating Baltimore City Paper Photo Editor J.M. Giordano surfaces.
Sunday Morning
The headlines roll in.
The Baltimore Sun's front-page story is "peace, then violence," accompanied by a picture of a black man on the hood of a car, smashing the windshield with an orange traffic cone. The New York Times reports on Baltimore's "scenes of chaos" with a photo of a black man stomping through a windshield, another black man standing atop the vehicle. The Washington Post uses a similar photo from a different angle to illustrate a protest "[turned] violent." USA Today opts for "destructive."
Many took to Twitter to call out what they perceived to be a racial, pro-law enforcement bias in reporting. Educator and protester Deray McKesson, who was present during the Saturday protests, tweeted: "When the police snapped #FreddieGray's neck, the @BaltimoreSun did not call it an act of violence. Only black folk are 'violent' to them."
Sunday afternoon
Mayor Rawlings-Blake calls for peace along with "faith-leaders from across the city" of Baltimore.
The BPD tweeted that extra officers would be stationed downtown this weekend for "safety" reasons. The department also issued a statement saying that a "small contingent" of Saturday's protesters caused a "violent commotion." The statement also confirmed that 34 people had been arrested and that 6 officers suffered "minor injuries."
Mourners attend a wake for Freddie Gray at Vaughn Greene Funeral Services. His funeral will be held at New Shiloh Baptist Church on Monday.
The six BPD officers who held Freddie Gray in custody at the time he sustained his fatal injury remain suspended with pay.
Bad at filling out bios seeks same.