Over the course of the past six years, pharmaceutical companies flooded West Virginia with more than 780 million painkillers, according to an investigation from the Charleston Gazette-Mail. Over that same time period, 1,728 West Virginians died of overdoses from hydrocodone and oxycodone, two common painkillers.

The newspaper also found that, between 2006 and 2016, drug wholesalers pumped more than 20.8 million opioids into a West Virginia town of 2,900 residents—that amounts to 7,172 pain pills for every man, woman, and child in town.
From the Gazette-Mail:
Between 2006 and 2016, drug wholesalers shipped 10.2 million hydrocodone pills and 10.6 million oxycodone pills to Tug Valley Pharmacy and Hurley Drug in Williamson, according to Drug Enforcement Administration data obtained by the House Committee.

Springboro, Ohio-based Miami-Luken sold 6.4 million hydrocodone and oxycodone pills to Tug Valley Pharmacy from 2008 to 2015, the company disclosed to the panel. That's more than half of all painkillers shipped to the pharmacy those years. In a single year (2008 to 2009), Miami-Luken's shipments increased three-fold to the Mingo County town.
Drug overdoses are now the leading cause of death for Americans under 50. Between 2015 and 2016, overdose deaths rose 17 percent nationwide. In states like Ohio, where overdose deaths rose by 25 percent in 2016, the trendline is even more stark. All signs point to the trend continuing through 2017 and 2018.
All the while, pharmaceutical companies have shown little remorse about what they have largely wrought, and no sense of responsibility to help the people they have harmed. So long as the government doesn't crack down on these companies, they have no reason not to continue flooding states like West Virginia with pills.
G/O Media may get a commission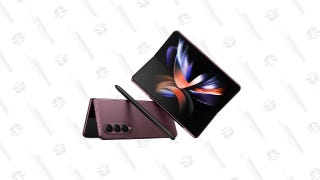 Save Up to $300
Galaxy Z Fold4
Stories like this underscore just how woefully unprepared the U.S. government is to effectively combat the opioid epidemic. This should come as no surprise: after all, this is the administration that wants to crack down on states that have legalized marijuana and ramp up sentences for low-level drug offenses.
In October, President Donald Trump declared a 90-day public health emergency in reaction to the opioid crisis—a largely meaningless gesture that accomplished little other than generating a few positive Fox News headlines. Last week, Patrick Kennedy—one of six members of the White House's bipartisan opioid commission—told CNN his group's work is a "essentially a sham."
In 2018, the archetypal drug dealer isn't a guy in a trench coat hanging out on a street corner. It's a pharmaceutical executive with a corner office, someone who sits on museum boards and goes to Jackson Hole for ski trips and is otherwise well-regarded in high society. The drug war is just another facet of the larger class war at work.