New video out of Palm Beach, Fl. shows a police officer shooting a black man in a stop and frisk search gone wrong. The man was unarmed, and officers apparently mistook the cell phone in his hand for a gun.
In the video, the man, Dontrell Stephens, is seen riding his bike into a housing complex while talking on his cell phone. A deputy pulls up behind him, rides over a patch of grass, and stops. Cell phone in hand, Stephens hops off his bike and takes about two steps towards the off-screen officer, who is now out of his car.
Stephens then turns around, as if to run, and is shot four times by Palm Beach County Sheriff's deputy Adam Lin. Only about five seconds have elapsed.
Stephens had a bag of weed in his pocket at the time. He was paralyzed from the waist down from the shooting. A federal suit is now underway with the case, which is why the video of the 2013 incident was released by Palm Beach's WPTV.
G/O Media may get a commission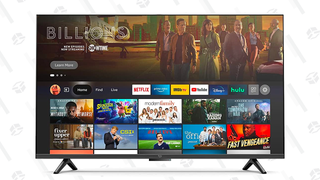 22% off
Amazon Fire TV - 50" Omni Series 4K - Early Access Deal
"Not only was Stephens' stop without cause, his arrest was secured with excessive force," Stephens' attorney Jack Scarola told the Palm Beach Post about the allegations made in the lawsuit.
Release of the video comes at a time when enforcement of bicycle laws in different Florida cities is coming under intense public scrutiny. Just a few miles south of Palm Beach, in Fort Lauderdale, recent data shows that 93 percent of bike registration tickets (this is a thing in the city) were issued to blacks—and that the law is often used as a pretext for stop and frisk.
Separately, an investigation released last week by the Tampa Bay Times found that eight out of 10 bike tickets issued in the city over the last three years were given to blacks, amounting to 2,504 tickets written. That's more tickets written than in "Jacksonville, Miami, St. Petersburg and Orlando combined," found the paper.
From that investigation:

A Tampa Bay Times investigation has found that Tampa police are targeting poor, black neighborhoods with obscure subsections of a Florida statute that outlaws things most people have tried on a bike, like riding with no light or carrying a friend on the handlebars.

Officers use these minor violations as an excuse to stop, question and search almost anyone on wheels. The department doesn't just condone these stops, it encourages them, pushing officers who patrol high-crime neighborhoods to do as many as possible.

There was the 56-year-old man who rode his bike through a stop sign while pulling a lawnmower. Police handcuffed him while verifying he had, indeed, borrowed the mower from a friend.

There was the 54-year-old man whose bike was confiscated because he couldn't produce a receipt to prove it was his.

One woman was walking her bike home after cooking for an elderly neighbor. She said she was balancing a plate of fish and grits in one hand when an officer flagged her down and issued her a $51 ticket for not having a light. With late fees, it has since ballooned to $90. She doesn't have the money to pay.
The video footage out of Palm Beach also suggests that other officers might have played a role in the aftermath of the shooting.
"He starts backing away," Lin says in the video, speaking to another unidentified officer. "I said, 'Get on the ground, get on the ground.'"
"I got your back man," the fellow cop told Lin. "I got your back. Hey, you hear me?"
But Stephens' attorney says the video clearly shows that no command was ever made for Stephens to stop. "There are no records of any commands ever made to Dontrell Stephens," Scarola told WPTV.
"The deputy's recorded statements following the shooting were absolutely false," Scarola said. "Internal affairs completely ignored that evidence."
Just after the shooting took place in 2013, Sheriff Ric Bradshaw told reporters that Stephens did not listen to the deputy's orders.
"Stop what you're doing and comply with us," he said. "There's nothing in the rules of engagement that says we have to put our lives in jeopardy to wait to find out what this is to get killed."
The Sheriff's Office is not commenting on ongoing litigation.
Daniel Rivero is a producer/reporter for Fusion who focuses on police and justice issues. He also skateboards, does a bunch of arts related things on his off time, and likes Cuban coffee.