Five months after being unceremoniously dumped from Fox News over multiple allegations of sexual harassment stretching back decades, Bill O'Reilly was back on TV Monday morning to proclaim to the world that, actually, he's a really great guy and everything is totally fine!

Speaking with the Today show's Matt Lauer, O'Reilly insisted that not only had he never done anything wrong over the course of his four-plus decades in broadcasting, but that Fox's decision to fire him this past April was made solely out of "business" concerns.
Looking visibly uncomfortable as Lauer pointed out that Fox must have had some tangible evidence of impropriety to dismiss its star personality and major money-maker, O'Reilly responded by saying, "that's a false assumption."
"There were a lot of other business things in play at that time—still today—that 21st Century [Fox] was involved with," O'Reilly said with a completely straight face. "And it was a business decision that they made. But there isn't any smoking gun."
He continued:
There are billions of dollars at stake in business deals, and they made a decision that they could possibly prosper more without me. It was as simple as that. It was a business decision.
G/O Media may get a commission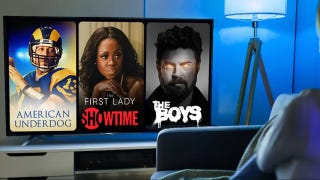 UNDER $1
99¢ Prime Video Channels
When your strongest line of defense is "I'm not a sexual predator, I'm just bad for business," it's probably time to rethink some of the choices you've made in your life.
When asked by Lauer whether he'd ever sent "lewd emails or texts" to co-workers at Fox, O'Reilly said simply: "No."
At least six women have come forward to accuse the onetime ratings powerhouse of sexual harassment. In 2004, a former producer on O'Reilly's show came forward with allegations that her boss had made a number of extremely harassing sexual advances toward her, including having once urged her to use a "falafel thing" (he meant a shower loofah, folks) for sexual gratification. O'Reilly and the woman eventually settled out of court for a reported $9 million dollars.
O'Reilly's appearance on Today was ostensibly to hype his upcoming book Killing England: The Brutal Struggle for American Independence. The previous evening, he joined Sean Hannity on the latter's Fox program—itself something of an even-more unhinged spiritual successor to O'Reilly's original show. There he was asked whether he'd ever return to Fox News.
"I don't know," O'Reilly replied. "I have to get this legal stuff done. I have to get this investigation done."
Bill O'Reilly makes podcasts from his car.