Former New Mexico Governor Bill Richardson thinks President Barack Obama will issue an executive order halting deportations before the end of the year.
Though Congress has failed — among its many other tasks— to deliver comprehensive immigration reform, the president is expected to gift wrap an executive order and stick it under the tree in time for Christmas, Richardson predicts.
"I think there is a very good prospect that the president this year will issue an executive order halting deportations; and that's a positive step," Richardson told Fusion during an interview Thursday in Washington, D.C. "I think it will be restricted to children and spouses, but I think that any kind of halt, any kind of measure that reduces that deportation-threat, is good."
When does Richardson expect that will happen? Before "Navidad," he said.
Richardson, who served as a Cabinet member for both the Clinton and Obama White Houses, has publicly urged the president to take executive action following the whimpering death of comprehensive immigration reform in the hands of Congress.
G/O Media may get a commission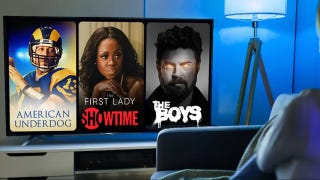 UNDER $1
99¢ Prime Video Channels
Obama, caustically dubbed the "deporter-in-chief" for his dubious record on immigration thus far, hasn't exactly dazzled anyone with his leadership on the issue. But Richardson thinks the president could still take action.
"He's very deliberate, and he has come through most of the time," Richardson said. "I think the president will do it."
Richardson couches his optimism by saying he doesn't have any "insider information" from the president, and doesn't even know who "has his ear on this." But the former governor said he talked to White House staff on Tuesday, and is feeling good that the executive order will happen soon.
It might only be a stopgap measure, but even a partial deportation freeze would still be an important move for a lot of people, Richardson says.
"It would give a certain stability to the Hispanic community —a light at the end of the tunnel," he said.
Fulanita covers all the stuff from Latin America that no one else will, with especial interest in clikbay.