There's probably no one more conflicted about supporting The Birth of a Nation in light of Nate Parker's rape allegations than Gabrielle Union. Not only does she star in the film as Esther, a victim of sexual assault, but 24 years ago, the 43-year-old actress was raped at gunpoint in the backroom of a Payless store where she was employed.
Union says it was just a month ago that she learned about the 1999 sexual assault accusations against The Birth of a Nation's director, producer, and star Nate Parker (who was acquitted) and the film's co-writer Jean McGianni Celestin (who was convicted of sexual assault, but the charge was later overturned), who were roommates at Penn State at the time. The woman who accused them of rape, a fellow student, committed suicide in 2012. Today, Union penned a deeply personal essay for the Los Angeles Times addressing the allegations against Parker:

As important and ground-breaking as this film is, I cannot take these allegations lightly. On that night, 17-odd years ago, did Nate have his date's consent? It's very possible he thought he did. Yet by his own admission he did not have verbal affirmation; and even if she never said "no," silence certainly does not equal "yes." Although it's often difficult to read and understand body language, the fact that some individuals interpret the absence of a "no" as a "yes" is problematic at least, criminal at worst. That's why education on this issue is so vital.
Previously, in 2014, Union spoke out about being a rape survivor on The View,  saying, "I hated feeling like a victim, it makes you lazy. I wanted to embrace being a survivor. I was raised to be an independent woman. That's the road I decided to take." And in 2011, she was appointed to the National Advisory Committee on Violence Against Women by President Obama. It's her painful past and her decision to be a strong survivor that led her to play Esther in The Birth of a Nation, a role in which she remains silent for the entire movie. Union wrote in her op-ed:

Since Nate Parker's story was revealed to me, I have found myself in a state of stomach-churning confusion. I took this role because I related to the experience. I also wanted to give a voice to my character, who remains silent throughout the film. In her silence, she represents countless black women who have been and continue to be violated. Women without a voice, without power. Women in general. But black women in particular. I knew I could walk out of our movie and speak to the audience about what it feels like to be a survivor.
Union said that, while she's read the 700-page transcript from the trial, she still doesn't actually know what happened because she wasn't in the room, which is why she urges the importance of teaching men about consent. Parker, in an interview with Ebony Magazine last week, admitted he didn't fully understand the definition of consent until recently:

Back then, it felt like…I'll say this: at 19, if a woman said no, no meant no. If she didn't say anything and she was open, and she was down, it was like how far can I go? If I touch her breast and she's down for me to touch her breast, cool. If I touch her lower, and she's down and she's not stopping me, cool. I'm going to kiss her or whatever. It was simply if a woman said no or pushed you away that was non-consent.
G/O Media may get a commission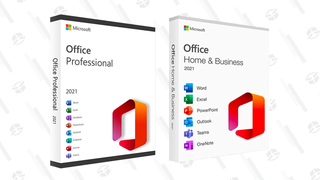 89% off
Microsoft Office Professional 2021 Lifetime License
Union sees The Birth of a Nation as a teachable moment: "I believe that the film is an opportunity to inform and educate so that these situations cease to occur on college campuses, in dorm rooms, in fraternities, in apartments or anywhere else young people get together to socialize."
Read her full op-ed here.
Tahirah Hairston is a style writer from Detroit who likes Susan Miller, Rihanna's friend's Instagram accounts, ramen and ugly-but cute shoes.