Activists in Los Angeles calling for police reform are taking their demands close to home. They've camped out in front of Mayor Eric Garcetti's house for two nights now and say they have no plans on leaving until he addresses their demands.
About a dozen demonstrators with the local chapter of Black Lives Matter gathered in front of the mayor's home at 6 a.m. Sunday, days after the L.A. Times leaked reports that the Los Angeles Police Department and its watchdog group found two officers to be justified in killing Ezell Ford, a 25-year-old black man who lived in South Los Angeles, last summer.
Ford was shot and killed just days after the police shooting of Michael Brown in Ferguson, Mo. in August last year. It was a tense month already, but when reports surfaced that Ford had mental-health issues, there were protests. His autopsy report wasn't released until December, raising even more suspicion in the community.
G/O Media may get a commission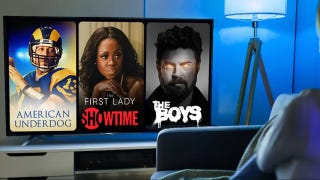 UNDER $1
99¢ Prime Video Channels
"We believe in no more normal business as usual," said Jasmine Richards, one of the organizers of the protest, in front of the mayor's house.
The Black Lives Matter demonstrators are calling on the mayor to fire LAPD chief Charlie Beck and to compensate families who have been "victimized" by the LAPD.
An altar with Ford's picture surrounded by candles was placed directly in front of the entrance to the mayor's home. Photos of Ford are stapled on trees that lined the mayor's residential block.
The mayor's mansion sits in one of the most expensive neighborhoods in the country. The Windsor Square neighborhood, as it's known to locals, is directly south of Hollywood. Neighbors are wealthy entertainment industry elites and business owners.
The protesters say that's exactly why they chose to protest in front of the mayor's home.
"We come to the mayor's house where he's comfortable," said Richards, who founded the local Pasadena chapter of Black Lives Matter. She said making the mayor uncomfortable would ensure he's aware of the groups demands.
"They're all these rich white people gawking at us like we're ornaments on a tree," said Richards.
"They see all these black and brown faces and they get a little bit intimidated, they get a little bit antsy. The mayor went out of his way to go through the back [of his house], so that says our presence actually made him uncomfortable, that's the point of this," said Richards.
The L.A. Times reported department investigators found evidence indicating Ford was shot after he fought for control of one officer's gun.
The Black Lives Matter protestors don't buy that and question why Ford was approached in the first place. In a lawsuit against the department, Ford's parents allege the two officers who stopped Ford were aware he faced mental-health issues.
An LAPD spokesperson told Fusion the department would not comment on demands from Black Lives Matter until the official findings are announced at a meeting of the Police Commission, the mayor appointed board that oversees the LAPD, on Tuesday.
The mayor says he's confident the commission has acted fairly.
"Trust and transparency are the foundation of the relationship between the Los Angeles Police Department and people it serves," Mayor Garcetti said in a statement sent to Fusion. "I have confidence that the Police Commission will conduct an impartial and fair-minded review of the investigations conducted by both the LAPD and the independent Inspector General."
Richards says she's ready to camp out as long as she needs to.
"One thing about Black Lives Matter is that we're an organization where everything is in the air. We go with our feelings and our hearts, so depending on that judgement tomorrow, we gotta just wait and see," said Richards.
"Me personally, I'll stay out here."