Nine Black Lives Matter demonstrators were arrested at London's City Airport on Tuesday morning after tying themselves together and lying on a runaway in a staged protest against the airport's expansion.
The protesters, white members of Black Lives Matter, said they were against planned development at the airport because of its environmental impact and the contribution of the airline industry to greenhouse gas-emitting fossil fuels, which they say disproportionately affect black people.
G/O Media may get a commission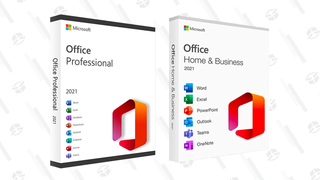 89% off
Microsoft Office Professional 2021 Lifetime License
"This action was taken in order to highlight the UK's environmental impact on the lives of black people locally and globally," Black Lives Matter UK said in a statement to the press. "When black people in Britain are 28 percent more likely to be exposed to air pollution than their white counterparts, we know that environmental inequality is a racist crisis."
The protest, which began at 5:40 a.m. G.M.T., caused the cancelation of dozens of flights, according to the Guardian. City airport, which serves around four million passengers each year, is a hub for business travelers. The activists said they're also protesting the airport's expansion because they see it as a service for the wealthy in a neighborhood with a significant low-income population. They said the average salary of a traveler at the airport is 92,000 pounds per year, or $122,000 US Dollars. They say 40% of the population living in the suburb the airport is located in earn less than 20,000 pounds per year, or $26,715 US Dollars per year.
That income gap between travelers and local residents is backed up by government and airport data: according to the airport's website, the average salary of a City Airport traveler is 113,791 pounds per year (around $152,000 U.S. dollars) and 41% of travelers are a chairman, managing director, director, or senior manager of a company.
Newham, where the airport is located, has one of London's lowest median incomes at 28,780 pounds ($38,594 US Dollars), according to London city statistics. Newham has the second highest child poverty rate in London (41%) and one of the highest unemployment rates in the city (8.6%), according to London's Poverty Profile, a project funded by the Trust for London and the New Policy Institute.
The airport's expansion plan was approved in July this year; the city of London told the Guardian it will create 1,600 additional airport jobs, along with 500 construction jobs. A spokesperson for London's Metropolitan Police told the newspaper the nine activists were arrested this morning on suspicion of aggravated trespass, being unlawfully airside, and breaching the airport's bylaws.