Kyle Canty says that he crosses the street out of fear whenever he sees police officers walking towards him. It's a fear that's gotten so intense that he's not petitioning Canada's Immigration and Refugee Board to grant him asylum and official status as a refugee.
"I'm in fear of my life because I'm black," Canty explained to the Board in a hearing to determine whether he would be given special citizenship. "This is a well-founded fear."
It's not difficult to understand why Canty might want to leave the U.S. considering the number of instances of high-profile police brutality committed against black people in just the past few days.
G/O Media may get a commission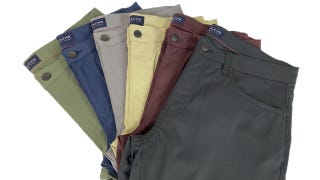 JACHS NY Fall Stretch Tech Pants
Though he has a history of arrest himself, Canty asserted that all of his negative interactions with were a direct result of racial profiling. Currently, Canty has pending criminal charges for resisting arrest, disorderly conduct, and illegal trespass.
Rather than downplaying the charges, Canty used them as a part of the convincing presentation that he gave.
Canty shared multiple clips obtained of his arrest for the supposed trespass that took place in Oregon. The videos show Salem PD pulling up to Canty, who was sitting at a public bus stop to make phone calls and use the free wi-fi, before proceeding to arrest him.
"This is a history of false arrest," he insisted. "My name is ruined because of the false arrest."
Though Canty has his heart set on Canada, it's worth pointing out that our neighbors to the north have had more than a few cases of its police officers brutalizing innocent citizens.
Last year, a number of videos surfaced of Canadian police beating suspects who had already been handcuffed and subdued. As the CBC points out, the instances of Americans seeking asylum are exceedingly rare, but Canty has hope and IRB board member Ron Yamauchi described his presentation as well-prepared and well-argued.
Canty is currently staying in a homeless shelter in Vancouver.