When Brian Eason sat down and ordered breakfast as his local Elmer's, he thought it was a bit odd when his waitress informed him that he had to pay for his meal in advance.
"I was kind of curious about it and said, 'Well, is that new?' And she said 'Yes, we had a few walk-aways and my boss asked me to ask for prepayment," Eason recounted to The Oregonian.
Eason paid for his food, which was promptly served to him, but when he ordered another drink and was asked to pay in advance again, he began to suspect that something was up with the diner. The waitress, to her credit, agreed, and told Eason that she was enforcing the establishment's policy under duress.
"She said, 'I think it's discrimination and my boss is here,'" said Eason "She's forcing me to have me do this."
Eason tipped his waitress, left the restaurant, and made plans to come back and ask other, white, patrons if they'd been asked to pay up front as well. When he learned that white customers weren't being subjected to the same scrutiny that he was, he decided to take action.
G/O Media may get a commission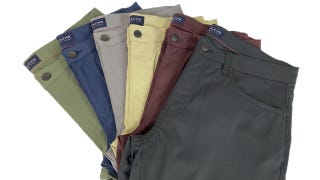 JACHS NY Fall Stretch Tech Pants
Eason, who's both a real estate agent and a deputy for the Multnomah County sheriff's department, is taking the restaurant and its parent company, Karsan, Inc, to court and seeking $100,000 in damages. Eason says that the experience has left him with the distinct feeling that Elmer's didn't like people like him—black people.
"At Elmer's, we are proud to provide a welcoming guest experience to everyone in the communities we serve," Elmer's spokeswoman Jill Ramos insisted. "We are disappointed to hear about the complaint which occurred at one of our franchise-operated restaurants."