Black students at one of South Africa's top universities are protesting what they say is widespread racism and discrimination at their school following the release of a documentary in August drawing attention to their experiences.
https://instagram.com/p/7Fa_whttnt/?tagged=openstellenbosch
https://instagram.com/p/7GfmoTrAEd/?tagged=openstellenbosch
The student protest movement at Stellenbosch University, called Open Stellenbosch, came together in April this year with black students sharing frustrations over discrimination and the heavy reliance on the language of Afrikaans instead of English.
Ijeoma Opara, a spokesperson for Open Stellenbosch, is a 20-year-old student at the university. She says that since her first week at the university she's felt excluded and discriminated against.
G/O Media may get a commission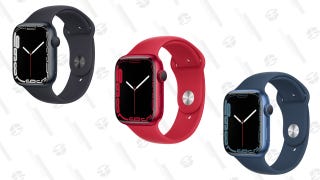 Up To $45 Off
Apple Watch Series 7
"A lot of the students who apply here arrive and are being forced to learn Afrikaans. And what we're saying is that this is completely uncalled for…also the institutional culture does have remnants of apartheid in it, in terms of the bureaucracy and management," she said.
Students say they tried to approach the administration but did not get much response–until a documentary, Luister ("listen" in Afrikaans), was released on YouTube two weeks ago featuring black students talking about being excluded and in some cases, physically attacked. Since then, the video has racked up nearly 280,000 views.
In the documentary, 32 students and one lecturer from the university talk about racism in everything from staff and student attitudes to the language of instruction at the school.
"Tons of students get to Stollenbosch University, and beyond the racism that they face and the alienation and the exclusion that they face, they also struggle to study at all," said Daniel Corder, one of the film makers of Luister.
Stellenboch is a bilingual university—classes can be taught in English or Afrikaans, two of South Africa's 11 official languages, says Corder. But students who are not from an Afrikaner background don't usually speak much Afrikaans, he says.
Stollenbosch students say that professors rarely choose English for their lectures, and the translated materials provided are inadequate for them to study from.
"I cannot after 23 years be in a space where I am fighting to simply go to classes that I pay for like any other student, to go to class and understand what is being said in class," said one student in the documentary.
Afrikaans is a language that comes from Dutch, imported by colonialists in the 17th century. When the National Party took power in South Africa in 1948 and introduced apartheid, they began to use Afrikaans as South Africa's primary official language.
The language has a painful connotation of oppression for some black South Africans. In 1976, the apartheid government's rule that schools had to use Afrikaans as their primary language lead to the Soweto Uprising—20,000 students protesting through the Soweto township. Police opened fire on the students, killing somewhere between 176 and 700 students.
Opara says that Stellenbosch in particular has strong ties to the apartheid past.
"The birthplace of apartheid, the ideology and the mission manifesto was in Stellenbosch, and we're saying that that's simply not acknowledged enough at the university," she said. "A lot of the people who work here in terms of council, it's mainly male white Afrikaaners that are making the decisions for this university and that filters down into every aspect of this campus, in the residences, in the social environment."
In an op-ed published over the weekend in the Cape Times, the university's Rector and Vice Chancellor Wim de Villiers wrote, "I am not going to defend the indefensible. Racism, discrimination, human rights violations, exclusion, marginalisation—these things are all wrong, end of story. Except, whatever is wrong must be fixed. We are attempting to do exactly that, and SU has been in a process of change for a long time, but that is not to say that we have done enough."
Officials of the public university–meaning it receives tax payer funding–went before the country's parliamentary board for higher education on Tuesday to answer to the allegations of racism.
"We are listening, we are talking. We are committed to open discussion and will continue doing so," said de Villiers in a statement released after the parliamentary meeting. "We urge Open Stellenbosch to enter into constructive discussions with us, from setting the agenda to the terms of engagement."
South Africa's governing party, the African National Congress, is seeking a parliamentary investigation into the school. "It is disgraceful that more than 20 years into our democracy, Stellenbosch University remains an enclave of white supremacy and apartheid culture, where young people in the new free SA suffer the same indignity experienced by their forebears," Moloto Mothapo, the ANC's parliamentary spokesperson, told Business Day Live.
But Corder says the problem is not just at Stellenbosch, but at universities across South Africa, and in the past few weeks, black students at other universities have begun to talk about discrimination they've come up against, too.
"Once Luister was released we were getting messages from students all across the country saying, 'Oh my word I experience this exact thing'. The reason it exploded and went viral was because there were thousands and thousands of students in the country who thought that this was so relatable that this was their own story," he said.