COLUMBIA, S.C. — A group of about 300 mostly African American students at the University of South Carolina walked out of class dressed in black, read their demands to school officials, and heard their response.
Local media assembled, cameras at the ready, waiting. Several beats of prolonged silence. What would happen next?
It's a question student activists and a sensitive university administration are hoping to satisfy in the coming days. Officials have promised more dialogue; students hope more talk doesn't mean inaction.
The biggest campus protest in recent memory — a rare public demonstration on racial issues — was galvanized by demonstrations at the University of Missouri. Those events pushed USC students to organize under the banner of "2020 Visionaries," compiling a list of a dozen demands they delivered to USC administrators for action by 2020.
G/O Media may get a commission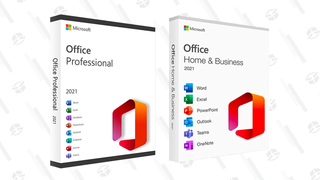 89% off
Microsoft Office Professional 2021 Lifetime License
At the top is a demand that the university acknowledge the role of slaves in its history, followed by expanded minority recruitment efforts. Other demands include better mental health care and gender-neutral housing and bathrooms.
"We have heard our university question, 'Could this be Mizzou?' over the past week," the group wrote in a letter to university President Harris Pastides. "The answer is no. We stand with Mizzou, but our needs are different."
For one, said Nona Henderson, a 19-year-old African American student organizer, President Pastides listens to her. He responds personally to her emails or a staffer follows up.
But she said she wants to see a more proactive approach. "I feel like they're not putting us on the priority list," she said.
She and others pointed especially to the canceling of a Step routine performance during Homecoming weekend. The event was one of the few highly anticipated events for minority students, she said. A university spokesman said an unavoidable scheduling conflict got in the way.
A Step routine was also involved in Henderson's introduction to racism at the university. After the dance routine was performed during an orientation class, another student's comment shocked her. "One of the white sorority girls said it was funny that we sat there and made our gorilla noises," she remembered. "It's one of my most vivid memories."
Kia Burton, a 21-year-old African American senior who attended the rally, said racism at the school is rarely overt. "It's not a bad environment," she said.
But Burton and others pointed to conversation around the protest on the popular college app Yik Yak and on Twitter.
One post particularly made the rounds with the protesters, a photo of a so-called "list of demands" on what appeared to be a classroom whiteboard. "1. FREE watermelon added to chicken finger Wednesdays."
President Pastides said in a letter responding to the protest that the recent furling of the Confederate flag after the killing of nine African American worshipers at a church in Charleston had refocused the university on race relations.
"We have achieved a great deal, during both calm and troubled times," he wrote. "In the past year alone, we've gathered for several listening forums where my administrative team and I have had the opportunity to hear from students, from our faculty, and from the surrounding community," he wrote. "…But I also know that there is more to be done."
The school appointed Chief Diversity Officer John Dozier two years ago to address the issues, Pastides wrote. Dozier and Provost Joan Gabel met the protesters outside the administration offices, saying they would work with them.
After the pause, students filled the void in several tense exchanges. Aaron Greene, a senior from Orangeburg, said the university should look at its numbers. Twenty-three percent are non-white at the school, and just 10 percent African American, a number that has dropped, he said.
"What is the University of South Carolina doing to reach the 30 percent of African Americans that live in this state?" he asked as protesters applauded. "Why are we closing this door – this door is open. Why are we cracking it?"
Greene later explained that USC might not have recently experienced extreme incendiary acts of racism or bigotry. That doesn't mean deep-rooted issues don't need to be addressed.
"The South does a good job of hiding things," he said.
Jeremy Borden is a journalist based in Columbia, South Carolina.