It was troubling, Jazzalyn Livingston said.
University of California officials said they were committed to enrolling more black students like her, but at the same time they were investing millions in prisons run by private companies—like the one in Mississippi where her own brother is currently locked up.
"Every University of California campus administration has stated that they are interested in investing in black students and increasing their black student population. But how is that possible when they are investing in a system that has perpetually dehumanized, displaced, and destroyed the black person?" asked Livingston, who recently earned degrees in psychology and public health from the university system's San Diego campus.
Thanks in part to a five-month pressure campaign launched by Livingston and a groups of fellow black students called the Afrikan Black Coalition, those concerns have been addressed. Last month, administrators shocked activists by announcing the university would sell assets totaling up to $30 million invested in funds that include some of the country's largest private prisons corporations, such as the GEO Group Inc. and the Corrections Corporation of America.
G/O Media may get a commission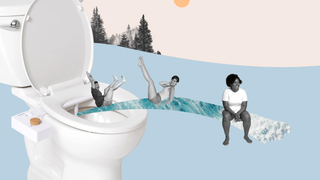 17% off
Tushy 3.0 Warm Water Spa Bidet Attachment
The divestment marks a surprisingly swift victory for the Afrikan Black Coalition, especially considering the relatively low number of black students in the UC system. In 2013 there were nearly as many black California state prisoners housed in CCA-owned facilities (around 5,000) than were enrolled in the entire University of California system (around 6,900), according to an analysis of public records by Christopher Petrella, a doctoral candidate in African American Studies at UC Berkeley. At UC San Diego, where Livingston earned her bachelor's degree, there were 529 black students at a campus that counted almost 25,000 undergraduates in the fall of 2014. And if history continues to repeat itself, about 80% of black students will graduate within six years, compared with 91% of white students.
The move, according to a UC spokesman, came after a meeting between the Afrikan Black Coalition and Jagdeep Bachher, the university's chief investment officer. Bachher thanked the students for bringing their concerns to his attention, said the spokesman, who cautioned that other factors were involved in the decision and that the school has a policy against blanket divestments. The state-funded system, with more than 238,000 at 10 campuses, has a portfolio of investments totaling close to $100 billion.
"We evaluate our investment opportunities from a risk perspective. Many factors figure into this perspective, such as whether social, governance, or environmental issues make the asset too risky over the long term," he said. (A CNN Money analysis found both the Geo Group, down 29%, and CCA, down 24%, "performed badly" in 2015.)
But Yoel Haile, the political director for the Afrikan Black Coalition, is confident that the divestment is a direct result of the students' campaign. "Essentially what they told us is that they didn't know their money was being invested in private prisons and that they had no idea how bad conditions were in private prisons," Haile told Fusion.
The Afrikan Black Coalition is made up of students at public colleges throughout the state—and until recently, they had been pushing both local administrators and the UC system to divest in private prisons. But by August, Haile encouraged the coalition to come together and go with a top-down approach, focusing all their energy directly at the leaders of the UC system.
The coalition also asked other groups overrepresented in private prisons to become allies in the campaign.
"There may be minor differences in the way we're targeted by the state, but ultimately our enemies are the same. We believe immigrants, poor people, black people, third world people in general should work together," said Haile, who grew up in Eritrea and moved to California in 2006.
The students say private prisons disproportionately incarcerate people of color and that they turn "black, brown, and immigrant bodies into a profit under the guise of rehabilitation," according to a statement they released last year.
People of color are more likely to serve their time in private prisons than in public facilities, according to research by Petrella, the doctoral candidate at UC Berkeley. People of color comprise 89% of those currently housed in CCA-owned and -operated facilities housing California state prisoners, said Petrella, who is currently a lecturer at Bates College in Maine.
Petrella found the overrepresentation of people of color in private prisons is primarily due to "finely tailored contractual provisions that implicitly exempt private prison companies from housing certain types of individuals whose health care and staffing costs disproportionately attenuate profit margins."
In the nine states Petrella reviewed he found most prisoners over the age of 50 were convicted and sentenced before the "operationalization of the so-called 'War on Drugs'" and are more likely to be non-Hispanic whites. Younger prisoners today are more likely to be people of color. That means that "health—and therefore age—tends to serve as a proxy for race without any explicit reference to it," Petrella wrote in his study.
"Almost every black male in my family has been incarcerated at some point in their lives and that's not a coincidence," Livingston told Fusion.
"Black people are not biologically or culturally disposed to criminality or violence; you have to take a deeper look into the history of this country and the conditions that have purposefully been set up for black people to be funneled into prisons," she said.
Haile said it behooves the coalition to learn from strategies other marginalized groups have developed. He went on to quote Fred Hampton, the chairman of the Illinois chapter of the Black Panther Party: "We say you don't fight racism with racism. We're gonna fight racism with solidarity."
"I'm an immigrant myself, so it affects me on both ends," said Haile. "There's a lot of African immigrants who are in detention centers that these same private prisons operate," he said.
Kamilah Moore, a UCLA alumna and the field organizer for the Afrikan Black Coalition, said she exchanged strategies with immigrant rights groups like the Immigrant Youth Coalition, United We Dream and other Latino groups on UC campuses. For research on the private prison corporations, the coalition partnered with organizations working on prison divestment, including Enlace and The Responsible Endowments Coalition.
The coalition of students discovered the UC had shares in private prisons in 2013 through research provided by Enlace.
Early on, when UC officials were unwilling to disclose how much they were investing in private prisons, Haile said, he made a California Public Records Act request. "We knew what questions to ask, we knew what information we wanted, we knew who to ask and we knew what our ultimate end goal was," he said.
When UC administrators announced they would drop the private prison investments, it caught the coalition of students by surprise. They were anticipating a much longer fight and were prepared to confront the heads of the university system at the upcoming UC regents meeting this month.
At Columbia University in New York it took students close to two years to get school administrators to sell $8 million in investments in CCA, the largest private prison company in the United States. Students there say in June it became the first university in the U.S. to drop investments in private prisons.
Representatives from two of the companies the UC system divested from—CCA and the GEO Group—responded to a Fusion inquiry and defended their work.
Both companies said their facilities and operations meet standards set by nationally recognized correctional accreditation agencies, and that they do not draft, lobby for or promote policies that determine the basis for of an individual's incarceration or detention.
"While the University of California system has maintained its action was based on long-term investment goals, by appearing to bow to activist demands the decision nevertheless represents a missed opportunity for honest and thoughtful dialogue around corrections systems, the role of our industry and the distinction between rhetoric and reality," said Jonathan Burns, a spokesperson for CCA.
"Attacks on private prisons ignore the ways our industry and our company have, for more than three decades, worked to deliver education and rehabilitation programs and post-release, reentry services to thousands of inmates, so they can reintegrate successfully into society," said Pablo Paez, vice president of corporate relations for the Geo Group, which operates 64 corrections facilities in the United States. "These attacks also rely on politically motivated sources to advance the inaccurate notion that private prisons are somehow unaccountable," Paez added.
The Afrikan Black Coalition now plans to push UC officials to drop hundreds of millions from funds invested in one of the nation's largest banks, which it says has financial ties to private prison corporations.
But so far Livingston says she is encouraged by the progress the group has made so far.
"This is a major victory for the Afrikan Black Coalition. This demonstrates the power that exists in the unity of our youth today," Livingston told Fusion.