Just a week after Georgia's own attempts to suppress thousands of black votes surfaced, Tennessee's people of color also find themselves struggling to gain access to the voting rolls.

The Tennessee Black Voter Project submitted roughly 36,000 voter registration forms to the Selby County Election Commission during a push to register voters of color. But according to Local Memphis and the Associated Press, the commission categorized half the forms as invalid and has thus far failed to respond to public records requests by TBVP meant to shine a light on what was apparently amiss in the process.
With the Elections Commission freezing out attempts to understand what, if anything, went wrong, Tennessee voters with invalidated forms have a narrow window to correct their forms ahead of the Nov. 6 election—early voting opened on Wednesday, and the amount of time for voters deemed invalid to change their form is dwindling with each passing day.
G/O Media may get a commission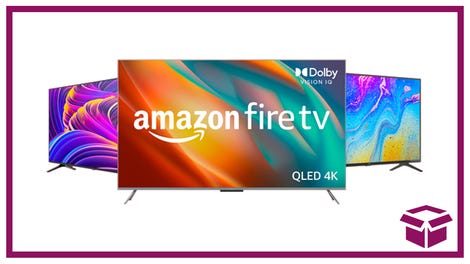 Ooh. stunning.
New Amazon Fire TVs
In response, the Black Voter Project filed suit in Shelby County Chancery Court on Monday. The group is seeking a court order to release the voting records being withheld by the Elections Commission. Under the Tennessee Public Records Act, only state citizens are allowed to request publicly available records; the act states that "[a] qualified voter may correct a deficient but timely filed mail registration form if the voter files a completed registration application or otherwise corrects the deficiency on or before the next regularly scheduled November general election."
Linda Phillips, an administrator with the Shelby County commission, told Local Memphis the blame lies with the Black Voter Project's decision to submit thousands of applications last week, saying, "there are many applications that have deficiencies," and adding, "we found over 1,300 felons that tried to register with this project." Election Commission spokeswoman Suzanne Thompson also told the site the commission is working into the night to contact voters with forms that have been deemed invalid. Thompson claimed there were also issues with multiple resignations by the same individual that were holding up the commission.
This is far from Shelby County's first issue with voter suppression—back in June, Corey Strong, the county's Democratic Party chair, criticized the commission's decision to maintain only one early voting site for the first four days of voting. After protests by the Democrats and Shelby County citizens, the commission agreed to open three early voting sites.
Correction, 10/19/18, 4:47 PM: This article originally cited an outdated provision of the Tennessee Public Records Act concerning when voters can request public records. It has been updated to reflect the current version of the statute.