Welcome to WHAT NOW, a morning round-up of the news/fresh horrors that await you today.

Leaders of Charlottesville on Monday night were confronted by protesters demanding answers about the city's aborted response to the recent, violent white supremacist rallies in the city which led to the death of Heather Heyer.
In the first city council meeting since the August 12 "Unite the Right" rally, police forcibly removed three people after about 100 attendees erupted into chants of "Shame!" and "Shut it down!"

As The New York Times reported, the three protesters were issued summonses for disorderly conduct charges, and the room called for them to be released and allowed to speak:
G/O Media may get a commission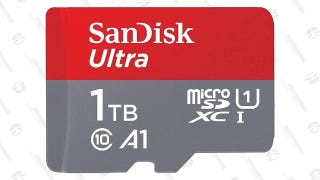 Save $75
SanDisk Ultra 1TB MicroSDXC Card
At another point during the meeting, two residents unfurled a banner that read "Blood on your hands!" for the city council and mayor to read as they left the meeting room after halting the meeting. A peace was finally brokered by the city's Vice Mayor Wes Ballamy, the only black member of the city council, who arranged for the rest of the meeting's regular agenda to be scrapped in order to allow everyone present one minute to speak.
After three hours of emotional testimony—one resident shook as he described how "I'm not the same person I was"—the council unanimously voted for a third party to review the city's planning and response to the white supremacist rally.
They also voted to drape the statues of Robert E. Lee and Stonewall Jackson in black to signify a city in mourning.
WHAT ELSE?
Last night, Donald Trump read very somberly about the war in Afghanistan, and how we're going to be serious about killing "terrorists" there now, so there was no shortage of media sycophants eager to praise him. (But look at that ratio.)
A new body camera video appears to show "questionable activity" by a Baltimore police officer, the state attorney's office said on Monday. It's the third such incident, with two earlier videos showing police planting and manufacturing evidence.
Vice President Mike Pence's take on a nation in turmoil? "I'm someone who believes in more monuments, not less monuments." COOL.