A good rule of thumb in investigative journalism is that if someone in power is complaining about your work, you're probably on the right track. That, however, didn't stop Bloomberg News from reportedly reassigning one of their reporters after a bank CEO complained about their coverage.

According to CNN, Bloomberg reporter Shahien Nasiripour had been working on a series of reports about Wells Fargo—beginning with an article in March about the bank's relationship with the National Rifle Association—when Wells Fargo CEO Timothy Sloan called Bloomberg's Editor in Chief John Micklethwait to voice his displeasure with Nasiripour's reporting.
The call between the two bosses reportedly came after Nasiripour and a representative from Wells Fargo go into a heated argument over a memo Sloan had sent the company in response to the article linking the bank with the NRA. Per CNN:
Following the conversation, a member of the Wells Fargo public relations team contacted Caroline Gage, the global executive editor for finance at Bloomberg News. Gage then asked Nasiripour to apologize to the Wells Fargo public relations team for his conduct during the call. Nasiripour agreed to do so and did.
Finally, the feud came to a head last month when Nasiripour was reportedly called into Micklethwait's office, and told he'd been reassigned to cover the Trump Organization. Citing "people briefed on the conversation," CNN reported that Micklethwait mentioned Sloan's complaint about Nasiripour's behavior during the meeting.
In a statement to CNN, Bloomberg sidestepped the allegation that they'd specifically reassigned a reporter based on complaints from a subject, saying instead that:

Bloomberg publishes 5,000 stories a day and, like every news organization, we get push back from the companies we cover. We make decisions about how we cover those companies based purely on what is best for our readers.
G/O Media may get a commission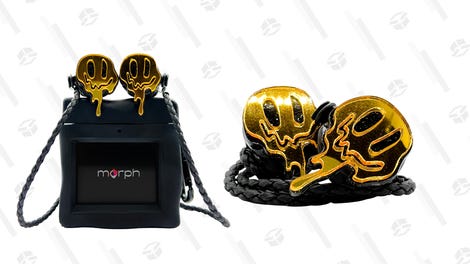 morph audio
Morph Earphones
Following Nasiripour's reassignment, however, CNN reports three other banking reporters at Bloomberg have left the company entirely, although all three—Hugh Son, Dakin Campbell, and Laura Keller—declined to comment to the network about their departures.
Wells Fargo has been on the receiving end of a punishing stretch of bad press coverage, following the company's having engaged in a number of unethical practices, including opening credit card accounts without customers' knowledge or consent and extracting some $80 million from customers for unnecessary auto insurance coverage. In April, the bank was reportedly bracing for a $1 billion fine from federal regulators in response to their insurance malfeasance.
We have reached out to both Bloomberg News and Wells Fargo for their reactions to CNN's report, and will update this story if they respond.

Update, 5:35 p.m.: In a phone call with Splinter, a representative for Wells Fargo declined to comment.