House Speaker John Boehner, a Republican, is the one person who could single-handedly give immigration reform a chance this year.
But he has said for months that he won't allow a bill to come to the floor without the majority support of his party, and most GOP lawmakers aren't eager to overhaul the nation's immigration laws.
Reform backers, however, have been clinging to a last-ditch hope that the House will pass smaller immigration bills, which could then be combined with a large-scale bill passed in the Senate this June.
On Wednesday, Boehner quashed the idea that the Senate bill and any prospective bills in the House could be merged into a final package.
"We have no intention of ever going to conference on the Senate bill," the Speaker said. "The idea that we're going to take up a 1,300-page bill that no one had ever read, which is what the Senate did, is not going to happen in the House."
G/O Media may get a commission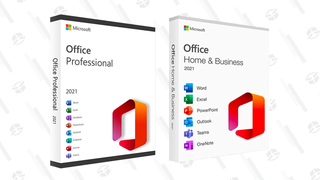 89% off
Microsoft Office Professional 2021 Lifetime License
Instead, he's sticking by the one-bill-at-a-time approach favored by many House Republicans. None of those bills have received a vote before the full House. And with only 13 legislative days left this year, that's very unlikely to happen.
Even as he hammered the nail into the coffin for immigration reform in 2013, Boehner couched his language when speaking to young activists this morning.
Several immigration reform supporters confronted the Speaker at a Capitol Hill diner, challenging him to answer their personal stories of family separation.
Politico's Seung Min Kim obtained a transcript of the exchange from advocates with the Fair Immigration Reform Movement.
"How would you feel if you had to tell your kids at the age of ten that you were never coming home?" Carmen Lima, one of the activists, asked Boehner. She said her father had faced deportation.
"That wouldn't be good," he responded.
Boehner said that he was "trying to find some way to get this thing done."
"It's, uh, you know, not easy — not gonna be an easy path forward," he said. "But I've made it clear since the day after the election that it's time to get this done."
Politico reached out to Boehner spokesperson Michael Steel to clarify afterward, and Steel said that the Speaker was talking about the piecemeal approach to immigration backed by House Republicans, not a comprehensive effort like the one in the Senate.
The takeaway: Boehner doesn't want to come across as callous, but he has no interest in taking up the immigration package in the Senate, which would offer a path to citizenship for the country's estimated 11.7 million undocumented immigrants.
Watch activists confront Boehner here:
Ted Hesson was formerly the immigration editor at Fusion, covering the issue from Washington, D.C. He also writes about drug laws and (occasionally) baseball. On the side: guitars, urban biking, and fiction.