U2's new album, "Songs of Innocence," came free to anyone with Apple's iTunes, and to all new purchasers of the iPhone 6.
Lots of people were angry at this arrangement. The complaints mostly came in two flavors, which were not mutually exclusive: They didn't like the idea of something coming onto their computer without their consent, and they didn't need a new U2 album, however inexpensive.
"Part of the process when you buy something from an artist, it's a kind of anointing, you are giving people love," Iggy Pop said in a recent BBC lecture. Among iTunes users, "maybe some people felt like they were robbed of that chance and they have a point," he said.
Today, Bono responded in a taped Q&A with the band on Facebook — and he admits he was afraid the album would might gone nowhere if it had been released through traditional means:
"Oops! Ehm, I'm sorry about that. Ehm, I had this beautiful idea, but we got carried away with ourselves. Artists are prone to that kind of thing — a drop of megalomania, a touch of generosity, a dash of self- promotion [here guitarist The Edge laughs — ed.] and deep fear that these songs, that we poured our life into over the last few years, might not be heard. There's a lot of noise out there — I guess we got a little noisy ourselves to get through it."
G/O Media may get a commission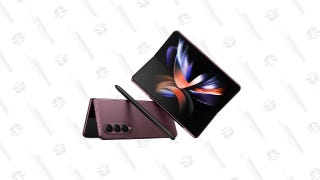 Save Up to $300
Galaxy Z Fold4
This is an interesting counterpoint to remarks recently made by Iggy Pop, who addressed the in a lecture for the BBC:
In spite of the objections, the album was "accessed" by 81 million people and downloaded in full by 26 million people, according to Billboard. Apple senior VP Eddy Cue told the magazine that before the offering, 14 million customers had purchased music from U2 in the 11-year history of iTunes.
"Songs of Innocence" officially dropped today.
Rob covers business, economics and the environment for Fusion. He previously worked at Business Insider. He grew up in Chicago.