A Customs and Border Protection agent questioned two women in Montana this week after hearing them speak Spanish while in line at a convenience store.
Ana Suda told KRTV in Great Falls, MT that she and a friend, who are both U.S. citizens, stopped at a store while buying milk and eggs in Havre, less than an hour from the Canadian border. While they were speaking Spanish, a CBP officer who identified himself as "Agent O'Neal" asked them for their identification. Afterwards, Suda confronted the agent and asked him why he did that while recording a cell phone video.
"Sir, can you tell us in the video why you asked us for our IDs, please?" Suda asks the agent in the video. "M'am, the reason I asked you for your IDs is because I came in here and saw you were speaking Spanish, which is very unheard of up here," the agent says. Suda then asks him if he was racially profiling them.
"It has nothing to do with that," he responds. "It's the fact that it has to do with you guys speaking Spanish in the store, in a state where it's predominantly English-speaking."
Suda, who is 37 and was born in El Paso, TX, told the Washington Post this weekend that she planned to contact the ACLU for legal guidance. Suda told the Post that even though her and her friend showed the agent their IDs, he kept them waiting in the parking lot for "35 to 40 minutes" afterwards, until about 1 a.m.

G/O Media may get a commission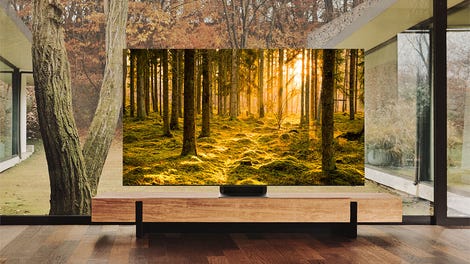 Up to 40% off
Samsung Smart TVs
"I was so embarrassed...being outside in the gas station, and everybody's looking at you like you're doing something wrong. I don't think speaking Spanish is something criminal, you know?" Suda told the Post. "My friend, she started crying. She didn't stop crying in the truck. And I told her, we are not doing anything wrong."
"Although most Border Patrol work is conducted in the immediate border area, agents have broad law enforcement authorities and are not limited to a specific geography within the United States," CBP said in a statement to KRTV. "They have the authority to question individuals, make arrests, and take and consider evidence."
In February, Montana Department of Labor and Industry legal secretary Jordan Dyrdahl-Roberts posted on Twitter that he was resigning from his job in protest of Immigrations and Customs Enforcement (ICE) subpoenaing his agency for employment data in order to hunt down and deport undocumented workers. In April, ICE reportedly arrested seven migrant workers in the state and initiated deportation proceedings against them.
Suda told KRTV that her family who's still in that state asked if she's ever had a problem before in Montana. "Montana is perfect," she said. "I love the people here, the people are so nice. It is nicer than other states. And I can't believe this happened."