As Ecuador recovers from the massive earthquake that rocked its coastal provinces on April 16, dozens of stories of superhuman bravery and solidarity are emerging in the local press.
One of the tales that has gripped social media in recent days is the story of Dayko, a rescue dog who appears to have worked himself to death as he helped to rescue people from collapsed buildings in the city of Pedernales.
Dayko, a 4-year-old Labrador, was one of several rescue dogs taken to the earthquake zone last week to help find hundreds of people who were trapped under collapsed buildings following the 7.8-magnitude quake.
G/O Media may get a commission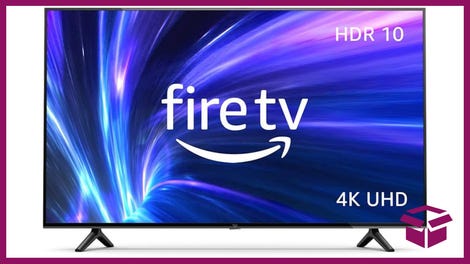 42% Off
Amazon Fire TV 50" 4K Smart TV
(Related: How to help Ecuador earthquake relief efforts)
He belonged to the Fire Department of Ibarra, a town in the Ecuadorean Andes, and had previously participated in rescue missions in the mountains and in the country's Amazonian east
According to some media reports, Dayko helped the Ibarra fire department rescue seven people from collapsed buildings last week. He also used his trained nose to locate two additional cadavers buried deep under the rubble.
But the tropical heat, lack of water, and long working hours appear to have been too much for the faithful work dog, who suffered a stroke on Friday on the drive back to the base.
The Ibarra Fire Department said in a statement that vets tried to resuscitate the heroic canine, but couldn't bring him back.
"Dayko joined our canine program when he was just a year old," the statement read. "Since his arrival, he captivated us with his compassionate gaze and his friendly character."
Dayko was buried with full honors at the fire base where he lived. Firefighters and fellow rescue dogs paid their final respects as Dayko's body was lowered into his grave.
The fallen hero immediately became a social media sensation, with hundreds of Ecuadoreans reacting to his death.
"If dogs don't go to heaven, when I die, I'd like to go wherever they are," said one popular meme.
"The best way to honor Dayko would be to adopt a street dog, there are thousands," wrote journalist Reinaldo Romero.
Ibarra firemen also shared anecdotes about Dayko online. They described him as a "bandit" who would sometimes sneak away from his trainers to mate with a female who also lived at the base.
"One time he dragged me all the way to a lake cause he loved water," said Ibarra Fireman Alex Yela. "Luckily I had a ball with me to draw him out of there, cause there was no power in this world that could get him out of a swim."
Some critics wondered on Facebook whether the Ibarra Fire Department had overworked the dog. But the department insists Dayko was properly cared for. Three more rescue dogs from the same fire department also participated in rescue operations in Pedernales, and all returned safely to their base.
"Today you have gone ahead of us, friend," Fire Department Lieutenant Sari de la Torre said as Dayko was buried. "But someday there will be [other] rescue workers joining you. Thanks for your company in the disaster zone."
Manuel Rueda is a correspondent for Fusion, covering Mexico and South America. He travels from donkey festivals, to salsa clubs to steamy places with cartel activity.