Brazilian runner, Alan Fonteles Oliveira, is proving his newest blades may make him a strong contender at the 2016 Olympic races. But is it because of the technology or his athleticism?
Oliveira, a double-amputee since infancy, began running with wooden prostheses when he was 13 and upgraded to carbon blades when he turned 15.
His breakout moment occurred in in the 2012 London Paralympics. Oliveira beat South African Oscar Pistorius in the 200 metre race by 0.07 seconds, finishing in 21.45 seconds. But was overshadowed by continuing news of Pistorius' murder trial.
Pistorius also complained that Oliveira's new prosthetic running legs, or blades, gave him an advantage because they made him two inches taller. But, according to The Guardian, the International Paralympic Committee found that Oliveira did not break any rules and his blades were well within set limits.
G/O Media may get a commission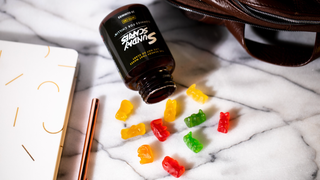 10mg CBD Gummies (22-Count)
However, for non-disabled competition, both Pistorius and Oliveira are allowed to have blades up to 75 inches for able-bodied races.
Oliveira told Brazilian newspaper Gazeta do Povo he has every intention to make it to the 2016 Olympics in Rio if he qualifies.
And he might just be able to do so. In March of this year, the Olympic and Paralympic organizations hosted a friendly competition on Copacabana Beach to celebrate the best current runners.
Jamaican Olympian Usain Bolt won a 150m race in 14.42 seconds. Oliveira won a 200m race against another Paralympian in 15.68 seconds.
That doesn't seem too far behind. So how is he surpassing Pistorius' records and catching up to able-bodied racers?
One study conducted by the Brazilian Paralympic Committee (CPB) and by a national TV show called Esporte Espetacular explains how.
The CPB, which compared Oliveira's results to that of a Brazilian Olympian runner with fully functional legs, found that his adaptation to the technology and athleticism helps him run faster, not the blades.
Here's how it works: the blades have a bounce and give runners like Oliveira and Pistorius a slower start-time. Going up does not mean going forward.
So it's crucial he has a fast reaction time to the start trigger.
Also, the lightness of the carbon material allows for Oliveira to conserve energy for once he is in an up-right position. He is then able to close any gap that exists between him and the other competitors.
Oliveira told another Brazilian sports TV show that after 40 meters, he speeds up. And while other runners may slow down toward the end, he keeps going strong.
He points out he can run with the best of them, "I'm equal to Bolt, who doesn't have a fall-back in the 100m race, and I don't either."