BELO HORIZONTE, Brazil —There's a new team making noise in the NBA.
Actually, it's not really a new NBA team, but its roster is made up of players from different NBA squads who come together to play in the off-season. And they all have one thing in common: they're Brazilian.
They're the stars of Brazil's national basketball team, and they've grabbed a foothold in the NBA at a time when the South American country believes it may have its best shot in a half-century at winning an Olympic medal in basketball at next year's Summer Olympics in Rio de Janeiro. Brazil last medaled in basketball in 1964.
A record number seven Brazilians today play in the NBA, including San Antonio Spurs center Tiago Splitter, who last year became the first Brazilian to win an NBA championship. This year could see another Brazilian win a championship ring. Golden State Warrior guard Leandro Barbosa and Cleveland Cavaliers center Anderson Varejão play for two of the four teams left fighting to advance to the NBA Finals.
"Without a doubt, we have the best national team in 15, 20 years," Cássio Roque, president of Brazil's professional basketball league, told Fusion. "Brazil has it all to fight for a medal in the 2016 Rio Olympics. Playing at home, in front of the passionate Brazilian supporters, we have a great chance to achieve this goal."
G/O Media may get a commission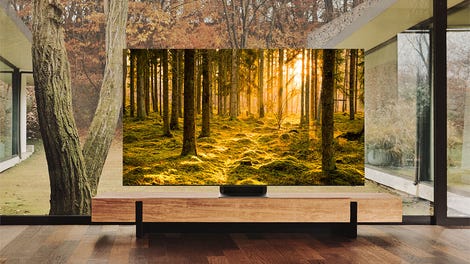 Up to 40% off
Samsung Smart TVs
Problem is, most Brazilians are too busy watching soccer to notice to know how good they got it in the world of basketball.
"It is really impossible to compare any sport with soccer here in Brazil," admitted Roque, who is Brazil's equivalent to the NBA commissioner. "Soccer will always be the most popular one."
Basketball in Brazil faces hurdles, including little fan interest and a lack of money. The average team salary in the 16-team Novo Basquete Brasil (NBB) is around $1.3 million, or about one-quarter of the average salary for a single NBA player. Around Brazil, televisions in bars and restaurants are always tuned to a soccer match, and in public parks basketball courts are often converted into soccer pitches.
Slowly, however, basketball is starting to find its place in Brazil. The growing number of Brazilian players in the NBA, along with the national basketball team's rising chances of winning an Olympic medal for the first time in more than a half-century, are signals of the increasing popularity of the sport.
"The success on the court reflects directly in the people's interest to follow basketball closer," said Roque.
Roque, who was founding president of Brazil's NBB in 2008, signed a partnership agreement with the NBA in October to boost fan engagement and new business development and improve player development and game presentation. One new initiative involves streaming NBB games, which has already attracted more than 350,000 online viewers, he said.
The NBB is increasing efforts to attract top international players to raise the league's profile. It's also working to develop young talent. Last June, then-18-year-old Bruno Caboclo became the first Brazilian to skip college and jump straight to the NBA when he was drafted by the Toronto Raptors.
Among the 35 foreigners who today play in the NBB are three from Argentina's national basketball team, including 2004 Gold-medalist Walter Herrmann. Americans have also seen success in the Brazilian league, with 24 now playing in the South American nation. Former University of Virginia standout Jerome Meyinsse last year won both the FIBA Americas Cup and the FIBA Intercontinental Cup with Rio de Janeiro-based club Flamengo, making it one of the best non-NBA teams in the world.
The NBA is also ramping up its outreach to the world's fifth most-populous country. The league opened its first Brazil office in 2012 and held its first-ever preseason game here in 2013, followed last year with another preseason game in Rio de Janeiro between the Miami Heat and Cleveland Cavaliers. Next October the Orlando Magic are scheduled to travel to Brazil to play against Flamengo.

Those initiatives seem to be paying off. Live viewership in Brazil of NBA games is up 42 percent from last season to about 164,258 unique viewers per game, bringing record-demand to local cable channels ESPN, Space, and Sportv, according to NBA spokesperson Julio Manteiga. A spokesperson for ESPN said the channel broadcast the NBA to 3.2 million Brazilians during the regular season, up nine percent from the previous year, with most viewers under the age of 35.
"Brazil is one of our highest priority markets," said Manteiga.
But basketball can't yet compete with soccer. According to 2013 data from Nielsen Media Research, only about 7 percent of Brazilians would actually prefer to watch basketball over other sports, and less than 1 percent plays basketball.
A recent scene at an Outback Steakhouse, an international chain that caters to foreigners, reflected the challenges. When a manager started to change the channel on one of the TVs from soccer to a Golden State-Houston game, a riot nearly erupted in the bar area.
"If you change the channel, all of these guys will probably try to kill you," manager Gustavo Garagano said jokingly. Only about once a week, among the 5,000 people who visit the restaurant, does someone ask to watch basketball, he said.
"Come back another night," he says.
Stephen Kurczy, a Brazil correspondent, has reported from the favelas of Rio de Janeiro to the jungles of the Amazon. Somewhere along the way he became addicted to açaí, a purple slushy made from the powerfruit.