This summer, Rio de Janeiro is expecting an influx of tourists for the World Cup. But a rather different international World Cup took place two weeks ago, the third annual Brazilian Pole Dancing World Cup. Dancers from across the globe flew in to attend the three day event, performing gymnastic feats of strength and agility, all while wearing skimpy clothes.
The Pole Dancing World Cup in Rio was held under the "Arnold Sports Festival" umbrella, related to the "Arnold Sports Festival" that was created in 1989 to encourage people to be more active. Schwarzenegger has now taken his fitness festival to Brazil, and included pole dancing in the lineup. This year the sport was showcased in the Arnold Festival in the U.S. for the first time, and now it has made debut in Rio, too.
But the pole dancing competition doesn't just feature young women; the performance cetgories include men, women 40 years and over as well as amateur dancers.
Here are some of the pole-performers that we can't stop watching.
This is Evgeny Greshilov from Russia, winner of the men's poledance contest.
This is Veronica Solimano, female winner of the international competition. Love that she danced to Mission Impossible music!
Paula Quintino from São Paulo, Brazil, winner of the Brazilian division.
Leesi Ruskaup from United States of America, 2nd Place of Female Master Division
And here is a breathtaking video compilation.
Pole performers are keen to stress that pole dancing is a sport and doesn't have to be sexy. Once you've watched them in action, you'll appreciate the skill it takes to maneuver around the pole.
G/O Media may get a commission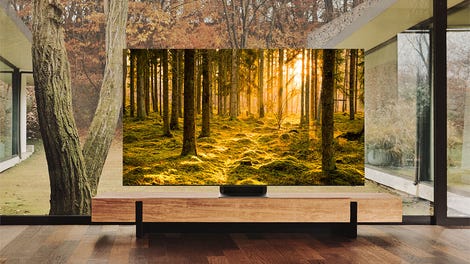 Up to 40% off
Samsung Smart TVs
Cash prizes are offered, but they don't amount to much. The maximum prize available at the Brazil World Cup appears to be around $4,000. But when you consider airfare and accommodation costs, the contestants might not break even.
Compare this to the soccer World Cup, where the winners get around $35 million and all teams who compete get around $8 million. It's basically a completely different ballgame (and yes, pun intended). But though the Pole Dancing World Cup renumeration is far from the realm of World Cup cash, the sport is growing.
It now has an organization, The International Pole Sports Federation whose full time role is to support pole dancing as an artform. They are campaigning to get it classified as an Olympic event. Then there is the growth of pole dance championships across the world, all which help take pole-work into the mainstream and out of the strip clubs. For now, we are not at that place yet, but with Arnold Sports adopting pole dancing into its events roster, this might change.