Amid a wild atmosphere resembling a heated World Cup soccer match, Brazil's lower house of Congress moved to impeach embattled President Dilma Rousseff by a vote of 367 to 137 on Sunday night.
Boos, cheers, and confetti poppers filled the lower chamber of congress as lawmakers voted to impeach Rousseff during a theatrical and televised marathon session Sunday afternoon and evening.
The motion to impeach the president will now pass to the Senate. If approved there, Rousseff will have to step down for 180 days to mount her defence against accusations that her administration masked budget deficit figures prior to her 2014 re-election.
G/O Media may get a commission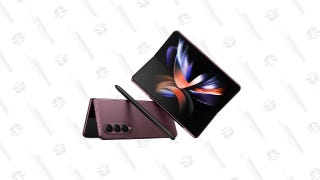 Save Up to $300
Galaxy Z Fold4
The president is also being targeted in the so-called Lava Jato (Car Wash) corruption scandal that has Brazilian prosecutors accusing dozens of top lawmakers and state-run oil company Petrobras executives of taking bribes in exchange for government contracts. Although the president is not directly implicated in that corruption scandal, those around her are.
In March the probes escalated as federal police raided the house of Rousseff's political mentor, former President Luiz Inacio Lula da Silva. A judge also published a transcript from a wiretapped conversation of Rousseff apparently offering Lula a cabinet position to shield him from what government supporters see as a political witch hunt.
But the "Car Wash" scandal involves politicians on both sides of the aisle, including House speaker Eduardo Cunha, who initiated today's impeachment proceedings against Rousseff.
Brazil's political unraveling is like a scene out of House of Cards, where corrupt politicians are accusing other corrupt politicians of corruption.
According to NGO Transparencia Brasil, more than half of the country's lawmakers have been accused of some type of crime, including murder.
But it's Rousseff who's on the hotseat now. On Sunday afternoon, millions of Brazilians tuned in to watch the five-hour long impeachment proceedings, which included fiery speeches from lawmakers who occasionally traded insults with each other.
The political theater was not limited to the halls of congress. In the capital and other major cities tens of thousands of supporters of Rousseff's Worker's Party (PT) flooded the streets alongside government protesters to watch giant screens showing the lawmakers casting their votes.
If the Senate goes along with the lower house of congress  a special commission must be formed to formally investigate Rousseff. In the meantime Vice President Michel Temer would act as an interim head of state.
Needless to say, at the moment it's not clear who Brazil's president will be during the Opening Ceremony of the Summer Olympics Games in Rio.