In the week since Steve Bannon was either fired or resigned or used his Winter King powers to dematerialize out of the White House, Breitbart has run a series of negative stories about Ivanka Trump and Jared Kushner. Who cares? Yes, correct.
But the whole thing became more interesting on Tuesday afternoon when CNN published excerpts from a series of emails reportedly between Breitbart editor-in-chief Alex Marlow and some random person pretending to be Steve Bannon.
In the emails, Marlow boasts to the Bannon impersonator that he has already "spooked" Trump and Kushner by publishing "five stories on globalist takeover positioning you as only hope to stop it."

G/O Media may get a commission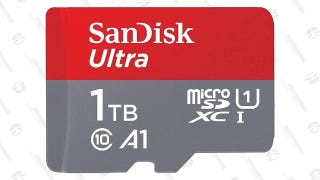 Save $75
SanDisk Ultra 1TB MicroSDXC Card
Fake Bannon then asks Marlow if he believes he can have the president's daughter and son-in-law "packed and shipping out before Christmas?"
"I'll see what I can do," Marlow replies.
Marlow also says there are rumors that Kushner is an "actual cuckold." This is a theory on "the whole internet," he explains.
It is not a secret that Breitbart, beyond spreading racist bullshit, is also Bannon's grudge tool. In an interview with the Weekly Standard last week, the real Bannon, the one with the acid in his hot tub, said he would do exactly this. "Someone said, 'it's Bannon the Barbarian.' I am definitely going to crush the opposition," he said. "There's no doubt. I built a fucking machine at Breitbart. And now I'm about to go back, knowing what I know, and we're about to rev that machine up. And rev it up we will do."
In a note sent to Breitbart staff following the email exchanges, Breitbart president and CEO Larry Solov advised they "be especially careful of emails from this address."
Good advice, no doubt.