Few media outlets in recent memory have been tied as closely to the rise of a politician as Breitbart News has been to President Donald Trump. The far-right site's homepage has often been portrayed as window to the soul of the disenchanted white voters whose rage Trump so ham-fistedly channeled. Steve Bannon, who led Breitbart through this much-ballyhooed rise, even ascended to the top echelons of the White House before returning to his digital roots.
But things have changed at Breitbart. Bannon has been forced out. The site's grating and offensive homepage has lost its punch. And traffic is down—way down, according to a report by Politico.
Citing numbers from comScore, Jason Schwartz writes that Breitbart.com's audience has steadily shrunk from 15 million unique visitors in October to 7.8 million in February. Totals from the first two months of 2018 represent a roughly 50 percent drop from the same periods last year.
Schwartz continues:
There are several potential causes for Breitbart's troubles, including changes to Facebook's newsfeed algorithm, amped up investment in digital by Fox News, and the shifting status of Bannon. Once Trump's campaign chairman, White House strategist, and closest ally, Bannon left the administration in August and returned to Breitbart, only to be forced out by the site's board after he criticized Trump and his family in Michael Wolff's book "Fire and Fury." Without its driving force, Breitbart has struggled to find a clear identity. And after a significantly diminished presence at this year's CPAC conference, there is a growing sense that its influence is on the wane.
G/O Media may get a commission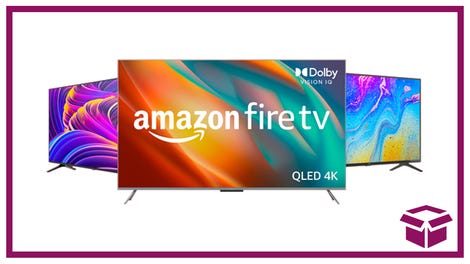 Ooh. stunning.
New Amazon Fire TVs
Take, for example, the site's embarrassing whiff in Alabama's Senate election in December. Breitbart gave alleged pedophile and Trump favorite Roy Moore splashy support while decrying his Democratic opponent, Doug Jones, as "Desperate Doug." Bannon even stumped for Moore. Jones' triumph despite such pressure may well have doubled as a referendum on Breitbart's power.
It's no surprise that the media outlet, which paints the political establishment, mainstream media, and Hollywood as part of a grand, unified liberal assault on American culture, grew briskly during the Obama years. It's no surprise that the 2016 campaign, where Trump and Hillary Clinton battled over the legacy of that era, became its official coming-out party. And now it's no surprise that Breitbart's influence is waning as the country grapples with the harsh realities of a Trump presidency, particularly when Fox News already fills the Trump-can-do-no-wrong niche. It turns out that shilling for someone in power offers only so many opportunities for good content.
Breitbart Editor in Chief Alex Marlow has yet to respond to my email asking how he hopes to turn things around.