As wildfires continue to destroy homes and livelihoods in Northern California, ultraconservative websites Breitbart and InfoWars peddled a totally baseless story to promote their pernicious anti-immigrant agendas.
On Sunday a homeless man, Jesus Fabian Gonzales, 29, was arrested for suspected arson in Sonoma County, where the worst of the wildfires are still burning. He was arrested after lighting a small fire in a park where he frequently sleeps. The fire was so small, The Press Democrat reported, a sheriff deputy were able to put it out before firefighters arrived.

The Press Democrat, a newspaper based in Santa Rosa, CA, first reported Gonzales' arrest, but not a single sentence in extremely brief story connects him to Sonoma County's wildfires — that didn't stop Breitbart, and later InfoWars, from twisting the report to falsely accuse Gonzales of igniting wildfires currently ravaging the county.

"ICE detainer issued for suspected wine country arsonist," reads Breitbart's headline. The story was widely shared on social media and generated a sentiment that could be best summarized by its top comment: "How many more innocent Californians must die on the alter of democrat immigration polices? Why do they continue to return the same anti American politicians to office at the risk of their very lives?"
As Breitbart's story spread, and spread it did, the Sonoma County Sheriff Rob Giordano emphatically denied any correlation between Gonzales' arrest and the wildfires. "There is a story out there that he's the arsonist in these fires," Giordano said at a press conference on Tuesday. "That's not the case. There's no indication he's related to these fires at all. I wanted to kill that speculation right now, so we didn't have things running too far out of control."
G/O Media may get a commission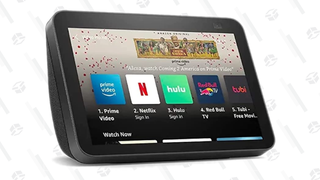 As The Sacramento Bee noted, Gonzales' immigration status remains unknown, despite Breitbart's claim. Giordano added that Gonzales lives under a bridge near the park where he was arrested and admitted to starting the fire. "[Officers] asked him if he started the fire, and he said he started the fire to warm himself up," the sheriff said.
Update, 9:05 PM: Officials have launched an investigation into whether PG&E maintenance might have sparked the deadly string of Wine County fires, however their cause has yet to be identified.