Brenda Snipes, the Broward County Elections Supervisor, resigned from her position on November 18th, saying she wanted to spend more time with her family. Less than two weeks after her resignation, Snipes was suspended by outgoing governor and Senator-elect Rick Scott, who on Friday cited "widespread issues with voting," according to the Sun-Sentinel. In response, Snipes has rescinded her resignation, and says she'll fight back against Scott's decision.

From the Sun-Sentinel:

Broward elections office attorney Burnadette Norris Weeks said the governor is holding Snipes to a different standard than other elections supervisors in Florida, "as if there can never be a mistake made." She alleged the suspension was mean-spirited, an attempt to take Snipes' pension, and based on false or unfair allegations. She also suggested the Republican governor was motivated by politics, removing the Democratic supervisor in a heavily Democratic county.

"We believe it's a malicious action that should not have happened," she said, adding later that "all of the voters of Broward County should be concerned."
National attention focused on Snipes in the days after the midterm elections, when Broward County experienced multiple problems with ballot counting. Though Snipes was appointed by Republican Governor Jeb Bush in 2003, she found herself the focus of criticism from Republican candidates. During the vote counting, Scott sued both the elections office and Snipes personally. Snipes' office blamed the problems on the number of mail in ballots they received. Norris Weeks called Scott's lawsuits "ridiculous" and "frivolous," taking up time the office needed for vote counting.
After issuing her suspension, Scott replaced Snipes with Republican Peter Antonacci, the CEO of business-recruitment agency Enterprise Florida. Antonacci is also a lawyer, and represented the governor's office in the 2004 Senate hearings against Miriam Oliphant, the previous Broward County Elections Supervisor, who was dismissed by Bush after being charged incompetent.

G/O Media may get a commission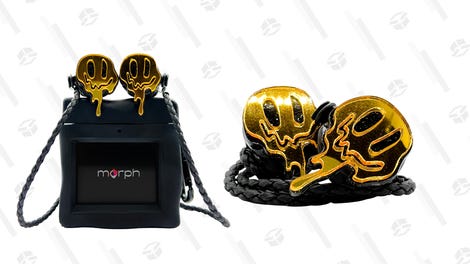 morph audio
Morph Earphones
In a press conference on Friday, Scott said "taxpayers should no longer be burdened by paying a salary for a supervisor of elections who has already announced resignation." He promised that his new choice would "be solely focused on running free and fair elections, will not be running for election and will bring order and integrity back to this office."
With her suspension, Snipes could lose her $71,000 a year pension. Her job as supervisor paid $178,865 a year.
Snipes isn't the only one worried about her paycheck. Her staff are also concerned about what the change in leadership might mean.
"The employees are anxious," Broward Commissioner Dale Holness told the Sun-Sentinel. "They have families to take care of."
"We will be fighting this to the very end," Norris Weeks told the Sun-Sentinel.