Before Beyonce brought feminism to the VMAs, the Fashion Law Institute was making the male-dominated legal world recognize the importance of a good stiletto.
And their fourth anniversary celebration Friday, a fashion show naturally, achieved nothing less. It was a vivid celebration of real-world female role models set to a medley of hard-pounding female empowerment anthems.
The Fashion Law Institute at Fordham University was founded by Professor Susan Scafidi in 2010. She had studied fashion throughout her career, but when she broached the idea of fashion law as a designated career track in the 1990s, the male-dominated tenure committee she faced dismissed the idea as frivolous.
The institute has become so powerful it's been sponsored by Diane von Furstenberg and is partnering with young fashion law committees around the globe — including working on launching a new center in Milan.
G/O Media may get a commission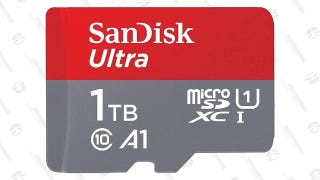 Save $75
SanDisk Ultra 1TB MicroSDXC Card
"Fashion law is a professional space," said Jeff Trexler, a faculty member at the institute.
The institute, based at the Fordham Law School on Manhattan's Upper West Side, offers a fashion bootcamp for emerging designers, as well as pop-up legal clinics. The bootcamp features courses in fashion industry-related issues such as child labor laws, finance and intellectual property, among others. It also teaches designers how to work with lawyers so they know what they're getting into when they launch their own line.
"We're very big on educating designers," Trexler said.
The institute also hosts an anniversary event every year at Mercedes-Benz Fashion Week, which just happens to be a fashion show.
"This year we wanted to focus on the fact that law isn't just for lawyers," Scafidi said at the show. "We as lawyers can help out but we can also teach designers and other fashion professionals to be legally literate."
The designers who put looks on the institute's runway are all graduates of its fashion law bootcamp or pop-up legal clinics. And they all have a story to tell.
This year, the institute featured Carrie Hammer, a recent bootcamp graduate who was able to attend thanks to a scholarship.
Instead of traditional models, Hammer put female role models on the runway. Women like Change The Ratio's Rachel Sklar, journalist Uduak Oduok and BlackRock managing director Kara Helander were showing off Hammer's professional wear designs:
But the real star of the show, apart from Hammer, was Karen Crespo, a nurse practitioner and bacterial meningitis survivor.
"It's a miracle she's walking at all, never mind on the runway," Scafidi said at the show. Crespo closed the show walking on her prosthetic legs to widespread applause.
Last year, Eden Miller of Cabiria was the first plus-size designer to show at New York Fashion Week. (check out a video from her show):
Fashion Law Institute Spring 2014 presentation (Image credit: Mercedes-Benz Fashion Week)
The institute is more than a part of Fashion Week — although it certainly is that — it engages all of the different communities of the fashion world, Trexler said.
"It's very democratic, it's very open."
And while many may associate the fashion world with chick flicks like The Devil Wears Prada, don't you dare make such references to Trexler or Scafidi.
"This is serious stuff," he said of the industry and the legal world that goes with it. "Now we see it as part of change and power."
Designer Carrie Hammer
Writing and images, unless otherwise noted, by Abby Rogers; Editing by Margarita Noriega.
@fusion