I have to admit that, as a gay person, it was weirdly refreshing to read about Brittney Griner filing for an annulment from her pregnant wife after 28 days of marriage.
I think my interest stems from the fact that most public narratives about gay people tend to be pretty heteronormative, with a heavy focus on marriage and family. (Filmmaker Reina Gossett shares a similar concern about the potentially harmful side effects of normalizing trans narratives.) As fun as it is to "shut out the haters" with my Target-branded life partner, my personal life isn't always Clinton campaign video-ready, so it was kind of cool to have an aspect of that truth reflected in the headlines this past weekend.
Anyway, the WNBA star's annulment from fellow basketball player Glory Johnson got me curious about whether there were any available statistics on same-sex couples filing for annulment or divorce. Griner and Johnson couldn't be the only ones—I mean, you can't really have gay marriage without gay divorce.
G/O Media may get a commission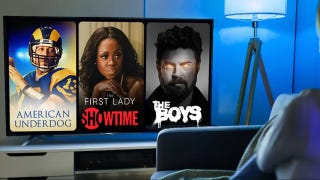 UNDER $1
99¢ Prime Video Channels
It turns out that stats on the dissolution of same-sex couples' marriages are relatively rare. That's not surprising—Massachusetts was the first state to legalize same-sex marriage in the United States in 2004, and only 35 other states, the District of Columbia, and Guam have since followed suit. At most, we're looking at a period of 11 years during which same-sex couples could have even gotten married at all, much less divorced or had those marriages annulled.
A representative for the National Center for Health Statistics confirmed to Fusion that they did not have any data available regarding the divorce rate of same-sex couples. There is, however, a report on the "Patterns of Relationship Recognition for Same-Sex Couples" from last December found that lesbian and gay couples in Vermont and New Hampshire ended their marriages at a rate of 1.1 percent annually. But after some number-crunching for The Washington Post, statistician Andrew Gelman realized that the rate might actually be as high as 2 percent annually—roughly the same as opposite-sex couples.
Wait, so does that mean that divorce is the greatest normalizer of all? I must discuss this further with the government-assigned masc bro who lives in my heather-gray Gap tee.
Bad at filling out bios seeks same.