A preliminary report on a private autopsy conducted on Michael Brown released Sunday shows that the unarmed black teen was shot at least six times — including once in the top of his head.
"That points to a higher likelihood, as witnesses corroborate, that he was surrendering to officers when the fatal shot was given," said Daryl D. Parks, an attorney for Brown's family. "That pretty much shows that the officer shot him execution style."
Brown was shot by officer Darren Wilson on Saturday, August 9. His death has sparked outrage, protests and violent clashes between police and demonstrators in the suburban Ferguson community. The preliminary results, first reported Sunday in the New York Times, also show that Brown was hit in the right eye, right cheek, neck and chest.
The autopsy was performed by Dr. Michael C. Baden, the former chief medical examiner for the City of New York. Baden flew from New York to Missouri to conduct the private autopsy at the request of the Brown family.
G/O Media may get a commission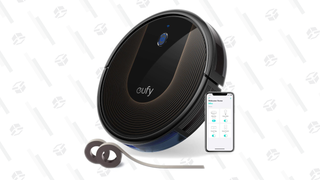 48% Off
Eufy BoostIQ RoboVac
"In my capacity as the forensic examiner for the New York State Police, I would say, 'You're not supposed to shoot so many times,'" Baden told the New York Times. "Right now there is too little information to forensically reconstruct the shooting."
Baden said the wound at the top of Brown's head indicates he was bending downward, which could indicate that he was was giving up, or because he was charging the officer.
St. Louis County police chief Jon Belmar said Brown assaulted the officer as the officer tried to leave his car. Brown pushed Wilson back into his car and assaulted him, Belmar said, where the teenager tried to wrest the officer's gun away. A shot was fired in the car, and then the remaining shots were fired outside of the car, according to Belmar.
Earlier Sunday, Attorney General Eric Holder ordered a federal autopsy of Brown's body. Brown's parents had requested such a review, saying they had no confidence in the autopsy conducted by local authorities last week. The results of that autopsy, conducted by the St. Louis County Medical Examiner, have not been released.
Parks told Fusion that the federal autopsy will begin on Monday.
@fusion