Images of last week's White Lives Matter protests in Houston harken back to an ugly time in U.S. history.
Around 20 people gathered outside the offices of the National Association for the Advancement of Colored People (NAACP) in Texas' most populous city, wielding assault rifles, Confederate flags, white nationalist propaganda, and White Lives Matter signs.
"We came here because the NAACP headquarters is here, and that's one of the most racist groups in America," protester Scott Lacy told local television station KPRC.
Demonstrators, as one man told the Houston Chronicle, were taking a stand against the "atrocities that organizations like Black Lives Matter and other pro-black organizations" have brought to the U.S.
In their view, Black Lives Matter (BLM) is a racial hate group and borderline terrorist organization. Ironically, however, this show of force in Houston prompted civil-rights organization Southern Poverty Law Center (SPLC) to announce earlier this week that it will list White Lives Matter as a hate group in its latest Intelligence Report. The biannual journal, whose next edition is slated to come out in February 2017, tracks hate groups and right-wing extremist activity across America.

G/O Media may get a commission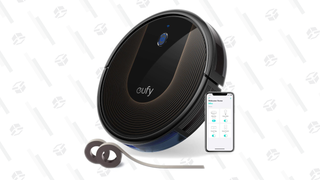 48% Off
Eufy BoostIQ RoboVac
"I got a call from a reporter, who I think was pretty surprised that the [Houston] protest even happened, and he asked me if we would list White Lives Matter as a hate group," Heidi Beirich, director of the Intelligence Report, told me.
"I didn't even think about it. I just said, 'Yes.' I could have said, 'Wait till we issue the annual report in February,' but it's really a no-brainer."
By adding White Lives Matter to its growing list of nearly 900 active hate groups in the country, SPLC affirms what some have argued: that the countermovement is just thinly disguised white supremacy.
After a black man fatally shot five police officers at a Dallas protest against police brutality in July, SPLC president Richard Cohen said in a blog post that it received requests to label Black Lives Matter a hate group. (The gunman wasn't affiliated with any groups, and told police that he acted on his own.)
"Generally speaking, hate groups are, by our definition, those that vilify entire groups of people based on immutable characteristics, such as race or ethnicity," Cohen wrote. "Federal law takes a similar approach."
By that definition, he argued, BLM is not a hate group. Its leaders are committed to diversity, condemn violence, and pledge to work with anyone necessary to fulfill the goal of ending police violence, Cohen added.
Conversely, a separate SPLC report from last month outlined the reasons why White Lives Matter does meet the definition of a hate group. In it, SPLC detailed the origins of the fledgling movement, which launched in response to BLM.
According to the report, Texas-based neo-Nazi group Aryan Renaissance Society spearheaded the White Lives Matter movement. Since last year, ARS members have posted fliers in various U.S. states that say, "It's Not Racist to Love Your People," along with the hashtag #WhiteLivesMatter, the report said. Meanwhile, the SPLC-designated hate group Divine Truth Ministries organized a White Lives Matter rally on Hitler's birthday in April. And in February, a car with signs reading "White Lives Matter" arrived at a Ku Klux Klan rally in Anaheim, CA.
"The messaging comes directly from white supremacists," Intelligence Report director Beirich said. "The particular individuals who created and have really been championing White Lives Matter have been involved in white supremacy for a long time."
Far-right conspiracy theories about a "white genocide" abound in circles that have taken to proclaiming "white lives matter," and are uniting hate groups, SPLC found.
A 2011 study titled "Whites See Racism as a Zero-Sum Game That They Are Now Losing" found that in recent years, "white people perceived lower levels of anti-black bias with higher levels of anti-white bias." It follows, then, that members of White Lives Matter are invested in maintaining systems that favor themselves over people of color.

However, some conservatives have used the phrases "All Lives Matter" and "White Lives Matter" as a way to counter the false narrative that Black Lives Matter only cares about black people at the expense of other races (read this for a crash course on why "All Lives Matter" is a harmful phrase).

For his part, former New York City mayor Rudy Giuliani, a Republican, argued in July that BLM is prejudiced.
"When you say Black lives matter, that's inherently racist," he said on CBS' Face the Nation. "Black lives matter. White lives matter. Asian lives matter. Hispanic lives matter. That's anti-American and it's racist."
Such conservatives have pushed back against the BLM movement "to reject the underlying notion of identity politics," as Lee Stranahan, reporter for right-wing news site Breitbart wrote. The danger is that people who view racial issues on a black-white binary may jump into the White Lives Matter camp without fully realizing where the group's ideology comes from.
"White Lives Matter is not coming from conservatives; it's coming from racists," Beirich said. "I would assume with the best of intentions that conservatives wouldn't want to be associated with racists."
Daniel Rivero is a producer/reporter for Fusion who focuses on police and justice issues. He also skateboards, does a bunch of arts related things on his off time, and likes Cuban coffee.