There is something incredibly vile about for–profit prison companies and their quarterly shareholder reports lauding earnings from government quotas to fill prisons with undocumented immigrants. It is especially disheartening that these companies are thriving thanks to President Donald Trump's malicious crackdown on undocumented immigrants across the country.
A disturbing report in the Houston Chronicle this weekend highlights how for–profit prison companies GEO Group and CoreCivic are directly benefiting from the Trump administration's focus on boosting arrests of undocumented immigrants in the country's interior as border arrests begin to decline. Trump's earlier claims that immigration officials would focus only on rounding up hardened criminals and gang members is a complete lie.

The newspaper reported that the stock values of both companies have doubled since Trump's election, and "no company is earning more from the detention boom than GEO, based in Boca Raton, Fla., which lists ICE as its number one customer."

From January to March, the number of immigrants locked up at 180 privately run detention facilities across the country increased by 10% over the same period in 2016, totaling nearly 114,000 people, the newspaper reported.

GEO Group is about to do even more business with U.S. Immigration and Customs Enforcement. It acquired the smaller for–profit prison company CEC, which boosted total revenues by a quarter of a billion dollars. Revenues last year at both GEO and CoreCivic surpassed $2 billion.

G/O Media may get a commission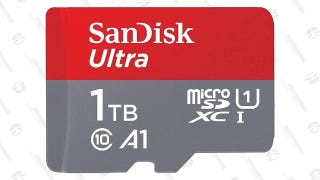 Save $75
SanDisk Ultra 1TB MicroSDXC Card
In May, GEO secured its first contract to expand and operate an ICE detention center under Trump, the Joe Corley Detention Center in Conroe, TX, in a deal that is worth a staggering $400 million.

According to the Chronicle:

The company contributed substantially to Trump's election campaign and to his inauguration. It also faces accusations that it illegally contributed $225,000 through one of its subsidiaries to a pro-Trump super PAC called Rebuilding America Now, despite a ban on federal contractor cash, according to a complaint pending with the Federal Elections Commission that was filed by the nonpartisan Campaign Legal Center. The Campaign Legal Center has alleged in a related Freedom of Information Act lawsuit that it believes that GEO Group may already have profited from its illegal donation through new business.
In a first quarter report for 2017, GEO noted that its net income—over $40 million—had jumped by 25% over the same period last year. Business is definitely booming for this industry—which President Barack Obama moved to shut down before leaving office—and GEO Group is the top beneficiary under Trump.

The newspaper also notes that Trump's proposed 2018 budget keeps those nefarious quotas in place in nearly all of the country's biggest for–profit ICE detention centers. It's a pretty simple formula: ICE has quotas it must meet to detain undocumented immigrants and fill beds at privately run detention centers. The contracts guarantee these companies that beds will be filled, and if they aren't, taxpayers still have to subsidize the companies' bottom lines, benefitting shareholders.

The Chronicle described it like this: "In its 2017 quarterly report, GEO itself identified quotas, described as its 'ability to sustain company-wide occupancy rates at its facilities,' as a major factor in its ability to turn a profit."

This apparently now is even influencing judges in Texas, who are increasingly denying bond for immigrants seeking asylum, even though they pose absolutely no threat. And it all boils down to money. In just one case described by the newspaper, a 22–year–old woman from El Salvador who fled threats from those who murdered her father, spent months in federal detention in Conroe, when she easily could have been released pending a ruling on her case. That cost taxpayers $25,000.

But the immigrants and their families are the ones paying the greatest price for this type of capitalist cruelty, all designed to boost quarterly profits and provide good news to unscrupulous shareholders.