Several BuzzFeed staffers openly criticized their site's decision Friday to publish an op-ed arguing that GOP political operative Roger Stone and President Donald Trump share "a long history as an ally of the LGBT community," renewing questions on the acceptable range of voices in public debate and how opinion journalists balance provocation and facts in the Trump era.
The criticism, tweeted by employees from both the news and entertainment divisions, crescendoed on Sunday night into a full-fledged staff discussion about the standards and goals of BuzzFeed's nascent opinion section. Opinion Editor Tom Gara and Editor in Chief Ben Smith fielded staffers' questions on Twitter, and Smith appeared on BuzzFeed's morning show on Monday and conceded that the column could have used sharper edits and clearer labeling on social media.

"I'm a news guy and have always honestly resisted publishing opinions because the questions around news are easier—you're right or you're not," Smith added to me by phone Monday, declining to re-litigate exactly how the piece was edited. "One thing that's good to be reminded of is that you should think hard about what the smartest people on Twitter are going to say, and then try to respond to what you think that criticism will be in the piece."
The column, written by gay conservative activist and Trump critic-turned-booster Christopher R. Barron, asserts that Stone's and Trump's LGBTQ-friendly records are "now dismissed by their opponents for purely partisan reasons." Barron walks through Stone's past support of gay rights, essentially implying that Trump should be trusted on such issues because of his longtime confidante's worldview.

G/O Media may get a commission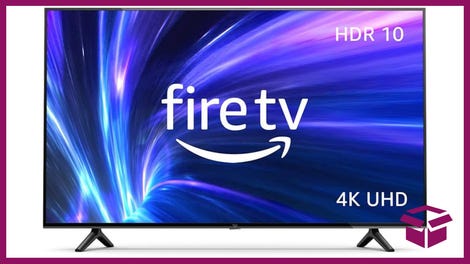 42% Off
Amazon Fire TV 50" 4K Smart TV
"You can oppose [Trump] on plenty of issues, but it is equally outrageous to smear the first President to ever take office supporting marriage equality — with a long and stellar business record of supporting LGBT Americans – as an enemy of the LGBT community," writes Barron, co-founder of the group GOProud.

A handful of BuzzFeed staffers questioned the decision to amplify Barron's voice on Twitter over the weekend, which Smith and Gara defended. A sampling:
"One of the questions is, has this person done things in his life and career that make his opinion worthwhile, or does he just exist to troll?" Smith told me. "If you've followed fights around gay rights in the Republican Party in the past 15 years, you know [Barron] has been around them."
Barron's bona fides aside, the big leap in his column is that Trump is pro-LGBTQ by extension of his relationship with Stone. The president wants to ban trans people from serving openly in the military—Barron admitted that was "unwise"—and his vice president, Mike Pence, is so well-known for his hostility to LGBTQ rights that Trump reportedly jokes about his desire to hang gay people.
Shani Hilton, head of US news at BuzzFeed, implied that the argument put a premium on provocation at the expense of facts:
It's the first public clash over BuzzFeed's opinion section, which launched this summer. And it comes as media outlets' opinion offerings, including those of CNN and The New York Times, have been increasingly criticized for trolling their audiences under the banner of "public debate." Last month, I wrote about the boundaries of that debate at the Times. Editorial Page Editor James Bennet told me that overstepping them was "less dangerous to our readers and society as a whole than the risk we'd run not hearing ideas we might be inclined to disagree with."
In an interview last month for the Times piece, Gara told me that the BuzzFeed vertical would gravitate toward expert analysis and activists with skin in the game, rather than professional columnists. (I wound up not including the interview in the final version of that story.)
"Obviously, in complicated ways that everyone knows, it's impossible to be truly objective and neutral," Gara said. "There are some opinions that we don't want to hear."
He continued:
How do you represent the pro-Trump case in a way that's intellectually honest and that's not a troll? As an observer, it is fascinating how few interesting pro-Trump voices are anywhere right now, and how hard it is to find them. [Former CNN Analyst] Jeffrey Lord was as good as it got for a while until he heil-ed Hitler in a tweet. It's a great mystery.
Watch Smith's full appearance on Monday's edition of AM to DM below: