A lot of people who follow LGBT rights news have predicted the next-civil rights issue of our time is going to be getting rid of laws that ban transgender people from using facilities that match their gender identity.
But if the Equality Act of 2015 announced on Thursday is signed into law, that fight could end real quick. The act would render local and state transgender bathroom laws unenforceable.
In many places the restroom laws have made it so transgender people aren't welcome in the men's restroom or women's restroom.
In February, Texas state Rep. Debbie Riddle filed legislation that would make it a misdemeanor if a trans person uses a restroom that doesn't correspond to the sex "established at the individual's birth." Similar legislation proposed in dozens of counties and school districts across the country have been met with mixed results.
G/O Media may get a commission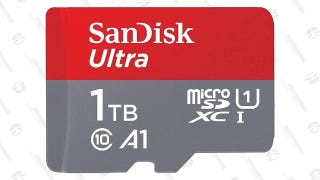 Save $75
SanDisk Ultra 1TB MicroSDXC Card
Conservative lawmakers have argued the laws are meant to keep women and children safe.
"I've got four granddaughters, and I'm not interested in anybody that has a question about their sexuality to be stepping in on them," said Texas state Rep. Dan Flynn  (R-Canton) at a hearing earlier this year, according to the Texas Tribune.
But transgender rights advocates say it's exactly the opposite.
A study published in 2013 found 70 percent of transgender survey respondents reported experiencing verbal harassment, assault, and being denied access to public restrooms.
"It's always a transgender person who is at far greater risk of being attacked in a bathroom," Maryland State Sen. Richard Mandaleno told Time magazine, when some lawmakers in his state were pushing a trans bathroom bill in 2014. "There's always this parade of outlandish consequences that are going to occur that never do."
The comprehensive Equality Act of 2015, introduced to the U.S. House and Senate on Thursday, by Sen. Jeff Merkely (D-Ore.) and Rep. David Cicilline (D-R.I.), may in fact be too comprehensive to become law without a long uphill fight. The act provides housing and worker protections, but opponents say it could deny some people religious freedoms.
But LGBT civil-rights advocates still say the Equality Act is a major game changer.
"If it becomes law, we'll have won legal protections that touch almost every aspect of our lives," said Stacey Long Simmons, director of public policy and government affairs at the LGBT civil rights group the National LGBTQ Task Force.