Pop quiz: You're arguably the most famous transgender woman on the planet, and you've been invited to pee in a woman's restroom owned by a major political party's presumptive nominee for president, despite criticism from within that same party. What do you do?
If you're Caitlyn Jenner, you film it.
In a video posted to her Facebook page Wednesday night, the Olympian, reality TV star, and trans icon takes Donald Trump up on his Today Show comments that Jenner would be welcome to use whichever Trump Tower restrooms she felt most comfortable in. This was a response to questions regarding the recent increase in anti-trans "Bathroom Bills," such as the one passed in North Carolina in March.
"Oh my god, a trans woman in New York, I gotta take a pee…" Jenner says to the camera, before "realizing" (the video is clearly staged) that she's standing in front of a Trump property. "Okay, last week Donald Trump said I could take a pee anywhere in a Trump facility," she continues, "so I am gonna go take a pee in the lady's room."
"'M,' not anymore," Jenner remarks as she passes the men's room on her way to the woman's. She is then shown exiting the room, and, after thanking Trump, addresses his GOP rival Ted Cruz. "By the way Ted, nobody got molested," she says, a nod to Cruz's recent comments regarding transgender bathroom access.
G/O Media may get a commission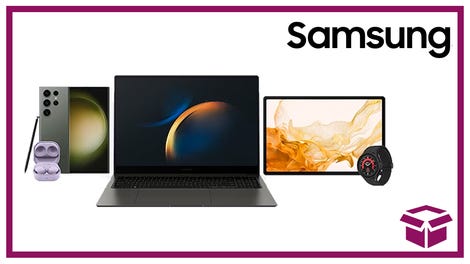 24 hour deals
Discover Samsung - Daily Deal
In addition to welcoming Jenner to use whichever bathroom she'd prefer, Trump also has indicated opposition to elements of North Carolina's recent anti-LGBT legislation, saying that they "did something (that) was very strong and they're paying a big price."